It's time to unveil our design predictions for the year ahead! We've got a mix of familiar favourites like gradients and minimalism, and some exciting recent trends that reflect the cultural influences shaping the design world. So, let's jump in and see what's hot in 2023!
Anti-branding
AI Art
3D Design Elements
Futurism and Technology
Y2K Vibes
Gradients
Retro Illustration
Authentic Diversity and Inclusion
This year's design trends are being shaped by several factors, including the increasing use of AI and automation in design, as well as the advancement of extended reality technology. Despite this, we anticipate a pushback against this rapid growth in tech, showing the importance of authenticity and human connection. We can also expect a continued focus on accessible and inclusive design practices.
1. Anti-branding
Anti-branding is all about breaking away from traditional corporate branding and marketing. Instead of relying on logos and slogans, it emphasises authenticity, simplicity, and creating connections with customers based on shared values rather than simply trying to sell a product. The trend often features minimalist and organic design elements, focusing on typography, raw materials, and textures.
There are elements of anti-branding that can be recognised as a counter-reaction to the increased use of AI and automation in design, with a significant focus of the trend being human connection.
Minimalism and anti-branding are similar trends with some common elements and values. Emphasising simplicity and a focus on the essentials, a rejection of the clutter and excess often associated with traditional branding and marketing.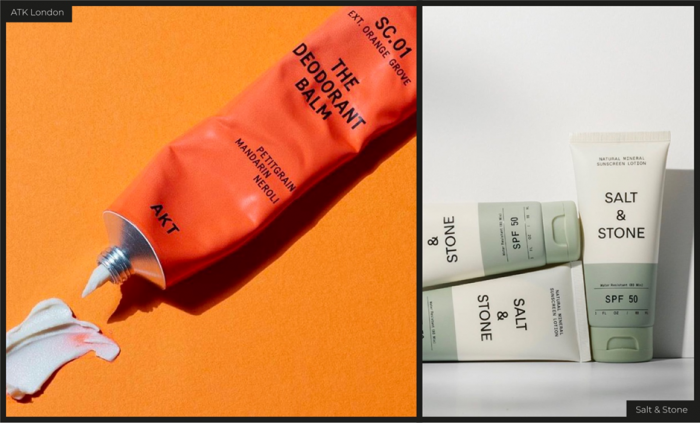 2. AI Art
In recent years, there's been significant advancements in artificial intelligence technology, resulting in the widespread use of AI-powered image generation tools like DALL·E 2 and Midjourney. This has opened up new opportunities for AI to be utilised within the design industry. In the coming years, we expect to see a huge increase in the amount of AI art used in design.
There are still many uncertainties surrounding the commercial use of AI, such as who holds the rights to AI-generated images and whether the source material used by AI is legal and ethical. The potential future restrictions placed on the use of AI content will play a significant role in determining how AI will be used in design in the long term.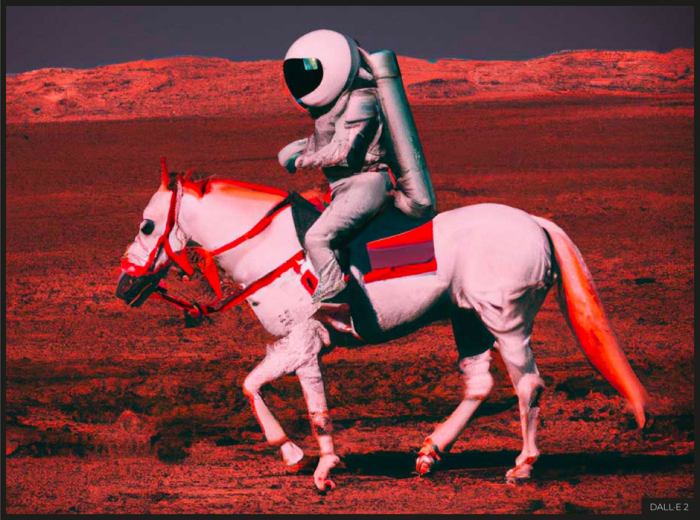 3. 3D Design Elements
3D design is gaining popularity as technology makes it easier to create detailed 3D graphics and illustrations. It's a great way to add depth, texture, and dimension to your designs, making them more engaging and effective in communicating complex ideas. The popularity of futuristic, AI-style imagery has increased the demand for 3D design.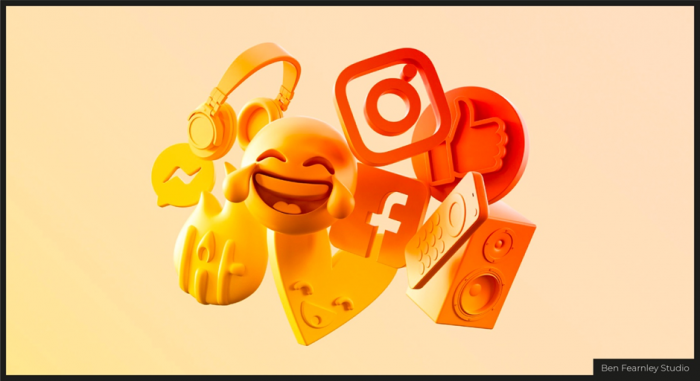 4. Futurism and Technology
As the metaverse and VR technology continue to grow, there is a rising demand for graphic design that creates a sense of presence and immersion in virtual environments.
While many areas of design are essential in creating these environments, this technology inspires graphic design outside of virtual reality. Expect bold sci-fi typography, computer-generated graphics, and neon colours inspired by a vision of the future.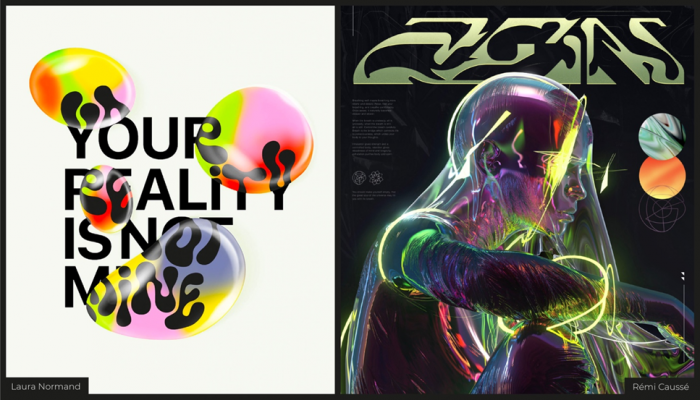 5. Y2K Vibes
Y2K is back, baby (and has been for a few years, I know), bringing the futuristic, tech-driven aesthetic of the late 90s and early 2000s with it. Designers are updating this trend with new technologies to create nostalgic and futuristic designs. Think of bright colours, metallic textures, futuristic typography, and dynamic visuals.
As technology continues to evolve, designers look to the past to find inspiration for the future.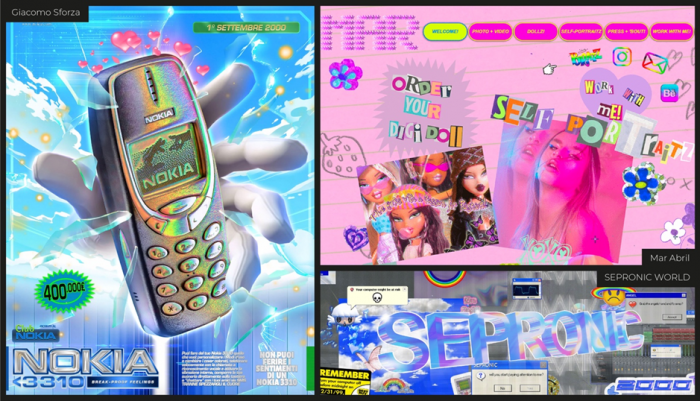 6. Gradients
Will gradients ever fall off the list of popular design trends?
Gradients have been a staple in graphic design for many years and have changed over time. From the bold rainbow gradients in WordArt to the subtle linear gradients in tech branding, This year, we'll see bold contrasting colours with a liquid-like appearance, enhanced with added grain for a dreamy touch. As graphic design continues to evolve, so do gradients, adapting to new styles and techniques. They don't appear to be going anywhere soon!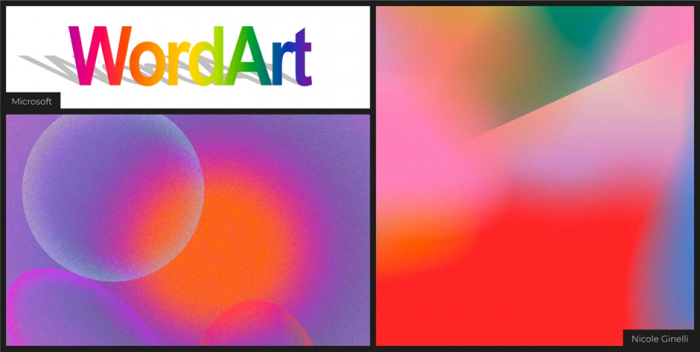 7. Retro Illustration
Retro illustrations are all about taking inspiration from the past. They feature vintage visuals from the latter part of the 20th century and often incorporate bold colours, clean lines, and simple shapes with a playful or whimsical quality.
Two of the most popular retro illustration designs expected for the year are rubber hose-style imagery and stickers – which have risen in popularity over the last year.
In the early days of animation, rubber hose illustrations were all the rage and are still loved today. The style is famous for its simple and fluid lines that bring characters to life with their bouncy movements and exaggerated gestures.
Sticker-style graphics come from the bold and colourful stickers from the 70s, 80s, and 90s. They had quirky and playful designs and were used to decorate everything from school notebooks to skateboards. Nowadays, they're recreated using modern methods for digital use, giving a cool retro vibe.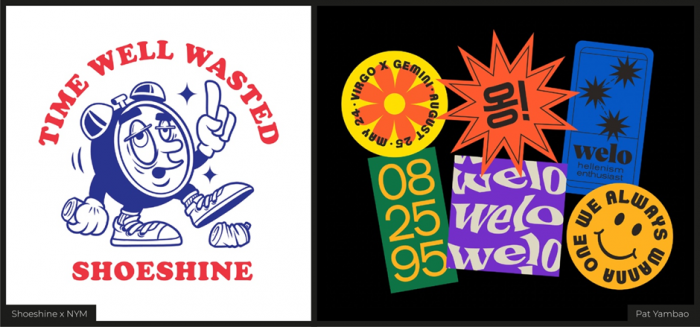 8. Authentic Diversity and Inclusion
Making diverse and inclusive design decisions isn't just a passing trend; it's a must-have in today's design world. You can tell the difference between when it's for show and when it's truly inclusive. It's no longer enough to throw in a generic image of people from different backgrounds holding hands.
Real inclusiveness shows in accessible designs, everyday use of inclusive language, and representation of diverse perspectives. The goal is to make designs that speak to everyone, not just one group.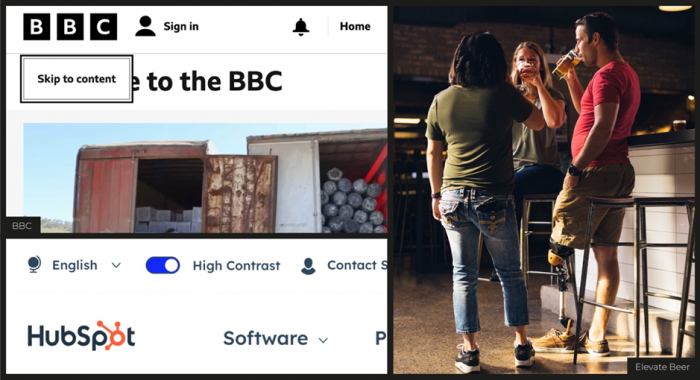 At the risk of sounding biased, let's make this movement the one that counts!
This year is shaping to be a wild ride for design, with new and old trends making their mark. AI, automation, and cutting-edge techs like AR and VR will keep changing the game. People also crave authenticity and simplicity, with movements like anti-branding gaining steam. We'll also see a throwback to the past, with a revival of Y2K design and retro illustrations.
But most importantly, the push for diverse and inclusive design is going nowhere. The goal is to create designs everyone can connect with, not just a select few. These trends show a desire to balance embracing the future with cherishing the past and putting real human experiences first.