When you see the word "optimisation" in the context of digital marketing, the first thing that typically comes to mind is Search Engine Optimisation (SEO). What often goes amiss, however, is the importance of incorporating relevant keywords into your social media content. Social Media Optimisation (SMO) can be highly beneficial – especially when it comes to specific platforms like Pinterest and Twitter. Even if your company is open and willing to invest in social media, many businesses overlook the simple changes they can make to their profiles and content to improve their social accounts' performance.
What's the Point of Social Optimisation?
Like SEO, SMO is the process of analysing and making adjustments to your social accounts and content to stay up-to-date with the current 'best practices' of social media.
Even though exceptional social media accounts make it look easy, any top-performing brand or accounts know that ignoring the details of optimisation is a risky business. Brand accounts benefit from social media optimisation in 3 ways:
To organically increase the reach of your content, resulting in better engagement on
your accounts.
To assess the ROI of your social media marketing.
To help you develop content that is on-trend and likely to perform well for your brand.
We've listed five ways to optimise your SMO and make sure that your social accounts are performing the best that they can.
Conduct Keyword Research
New searchable social aspects, such as Instagram's updated search features and traditional search-heavy platforms such as Pinterest and YouTube, showcase how important it is for companies to use relevant keywords in their social accounts, posts, and general social strategy.
While there's no need to artificially stuff your posts to boost your profile's chances of landing high on Google's search pages, including brand and industry-specific keywords in the majority of your content is important to your overall social strategy. For example, if you search for 'vegan skincare' on Instagram, you can find the brand Scenceskincare. Not only have they optimised their bio to include the keywords 'vegan' and 'skincare' they also use the relevant hashtags to promote further visibility.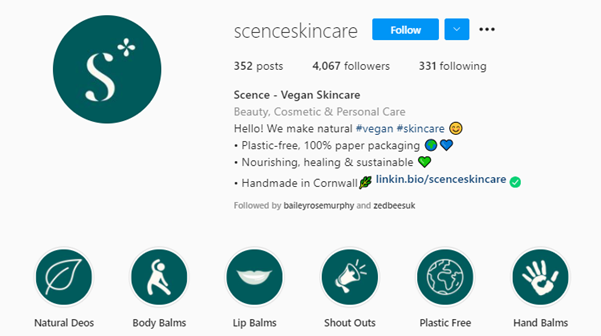 Optimise Your Profile
It's easy enough to create a social media profile for your business, but are you following 'best practices' for that channel? Optimising your social channels are a great way to encourage more high-value users to your page.
To be competitive on social media, your presence needs to be built on a solid foundation. Below we've listed the top three things a business should focus on:
Username: For your followers and customers to have a consistent brand experience,
your username should be the same across every channel you're active on. This will make it
easier for people to search and find your business on social.
Bio: Don't forget your bio. State what your company does and include as many
relevant keywords as possible. Make sure to have a clickable (and ideally tracked)
link back to your website so people can learn more about your business.
Profile photo: If you want to build brand recognition from day one, you need
to have an optimised logo photo as your profile picture. This is the first thing users
will see, so blurry or poorly cropped images will also reflect poorly on you as a brand.
Optimise Your Content
There are two types of content that appear on social media – original and curated. Original content is content that you make and post on social media. Curated content is content that you find from another source and share on social media. Your social media strategy should include a bit of both to achieve the best results.
Remember that different platforms will have different 'best practice' rules. For example, the optimal ratio on Instagram for in-feed content is 1:1 or 4:5. You can upload landscape photos, but they typically don't perform as well as the other aspects listed above. Similarly, Instagram Stories or Reels content should use a 9:16 ratio as this is how users expect to experience their content.
Track Your Content
Many businesses forget that your social channels can be drivers of traffic and should be used as such. If the social platform you're using allows clickable links within the post, you should be using this feature frequently. Through link optimisation, you track your customers' behaviour when they click through and identify your top-performing social content. Businesses on social should aim to:
Apply UTM parameters on their social link to track click attribution.
Make sure they're sending people to the appropriate links and landing pages.
Analyse which links are receiving the most clicks.
Knowing which content your followers click on the most will inform your future content creation and publishing, so you can focus your time and energy on content that drives the results you're looking for.
Optimise Your Publishing Schedule
Depending on who your target audience is and where they're located in the world, you will want to modify when you publish your content to maximise your organic reach. Your audience isn't always online to engage with your information, so you should try to be as strategic with your publishing times as possible.
Your company's best publishing time will depend upon the social channel you're using and your audience. These two factors also influence your posting frequency. Some social sites are better for posting multiple times a day (think Twitter or TikTok), while other social sites may only work best with posting once or twice a day (Facebook or Instagram).
The steps outlined above are focused on establishing the foundation of your brand's social media presence. The more time and energy you put into getting the foundation right, the better your social media strategy will be in the future. If you're still unsure where to begin or need some fresh eyes on your social strategy, contact us at 8 Million Stories to help you level up your brand's social media strategy.