Amazon is a few years behind Google when it comes to advertising and this is clear when you compare the reporting, targeting options and the basic functionality of the interface (not being able to edit a campaign name once it is created in Amazon is particularly frustrating). However, over the past year Amazon has started to up its game, showing they are serious about improving the platform with new targeting options and bid adjustments becoming available for their Sponsored Product campaign types.
For all its failings, Amazon does have one major advantage over Google. Users are on Amazon to buy, and advertising on the platform is one clear way to help you to get their attention while their wallets are out. So which campaign type should you choose to get started? Here's a brief overview of the different campaign types available on Amazon.
Ad Types
Sponsored Brands
Sponsored brand ads are keyword targeted and appear, as a banner, at the top of the search results page on Amazon. More recently Amazon has opened up new placements at the middle and the bottom of the search results pages which has seen this ad type gain a huge increase in impressions over the past few months.
This ad type is most suited to advertisers who want to display a range of products, rather than specific products, for example "wooden toys" in the example below. Sponsored brand ads are also good for getting the brand name and logo in front of users so can be a great boost for brand awareness.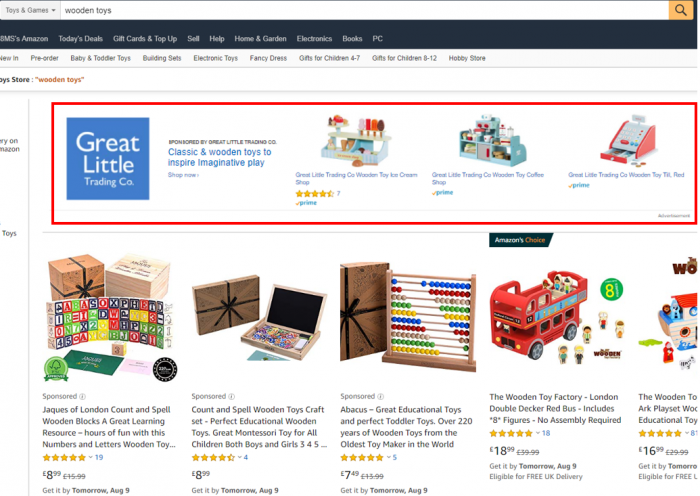 Sponsored brand ads are often described as being a "top of the funnel" campaign type, however, with clicks becoming more affordable due to the additional placements available, our experience is that ROAS isn't too far behind that of the top revenue driving campaign type, Sponsored Products.
Sponsored Products
Sponsored product ads are keyword targeted campaigns and drive the highest conversion rates and ROAS (or the lowest ACoS if we are going by Amazons metrics). Ads appear on the SERP as in the example below, as well as in the product detail pages.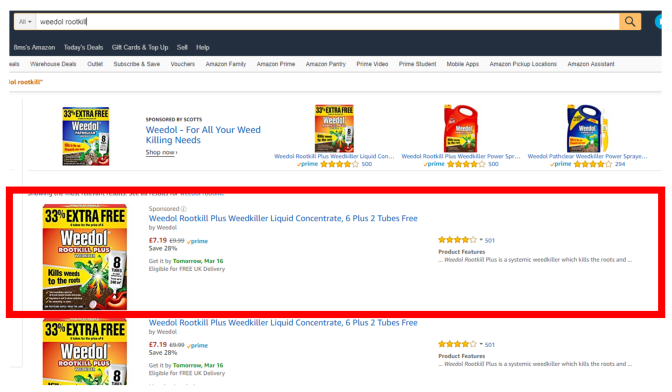 These ads are ideal for promoting individual products or a set of similar products that all relate to similar keywords. Keyword targeting can be entered manually if you know the type of keywords users use when researching your products but Auto targeting is also available. Previously, auto targeting was extremely broad and results were questionable. However, there have been some new changes at the beginning of this year to give advertisers better control over auto targeted ads. These allow exclusion or bid adjustments of close match, loose match, substitutes and complements independently of each other.
For full coverage, and if budget allows for it, you can really dominate the space in the search results by combining both Sponsored Products and Sponsored Brand ads.
Recently there have been updates to Sponsored Product campaigns allowing you to target specific product ASINs or categories instead of keywords. This type of targeting was previously limited to the Product Display ad type (discussed below) but can now be used in sponsored product campaigns to steal market share away from the competition. Although ROAS tends to be lower for this targeting type, if used effectively, for example to target competitor products with poor reviews, this can really work in your favour.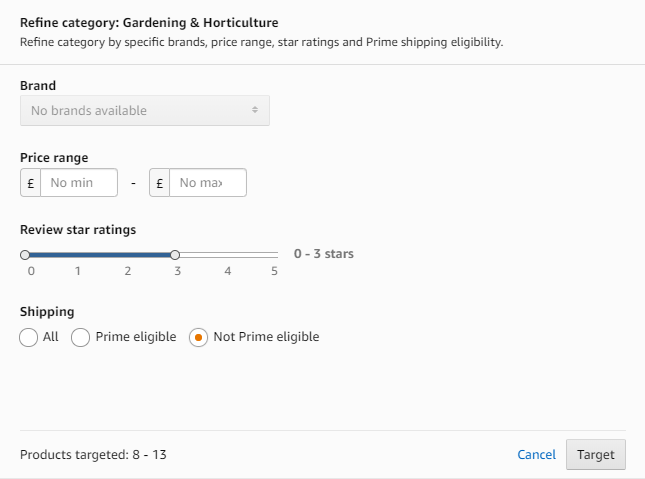 Product Display
This ad type is only available to advertisers using Vendor Central and although they have a lower ROAS than other ad types, positive returns can still be generated.
These ads are not targeted by keyword. The most effective way to use Product Display ads is to target similar products to the ones you are selling. The ad appears beside these products when users are viewing the product detail page.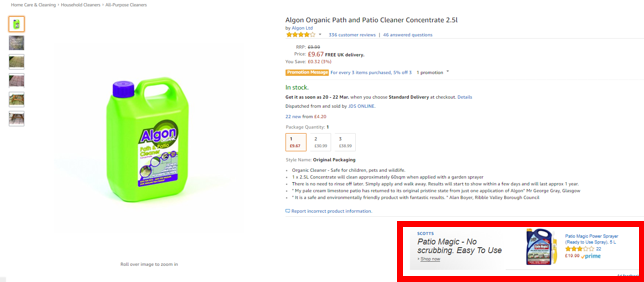 This ad type is useful for taking market share away from competitors. However, there is nothing to stop competitors targeting your products with their own ads. One way around this is to block them by targeting your own products with more of your own products. This way you still dominate the space, you may have to pay for a click on the ad but you do keep the customer, rather than losing to a competitor.
So Which Ad Type is Best?
From experience, if the budget is available, then running all campaign types together is, perhaps quite obviously, the ideal route to go. On one side you have the awareness building, market share stealing and competition blocking capabilities of Product Display campaigns. While Sponsored Product and Sponsored Brand campaigns (which each have their own key differentiators depending on whether you want to push users to individual products or a range of products) are valuable revenue drivers at the bottom end of the funnel.
However, if budget is limited and you had to choose just one ad type, assuming that return on ad spend or ACoS is the main KPI, then Sponsored Products are your best friend on Amazon. Search marketers understand the value of user intent behind keyword searches, but on Amazon the conversion potential is huge. Furthermore, Sponsored Product ads are way ahead of other ad types when it comes to reporting and optimisation capabilities so as well as more revenue, there is also more control for first time advertisers on this platform.
One thing is for sure, Amazon is growing all the time, and businesses who choose to ignore the opportunity presented by this channel risk falling well behind.