Recently, Instagram launched a new update which saw the arrival of both a 'Reels' and 'Shop' tab to the app's homepage. The update has received mixed reviews from both users and influencers alike due to the dramatic change of the user interface design, with social media personality James Charles accusing the platform of 'not caring about creators that use the app.' Despite some negativity surrounding the update, we still think that the new features are important to incorporate into your social media plans. Reels in particular are simple to make and fast to consume, so users can get to know your brand in a short space of time.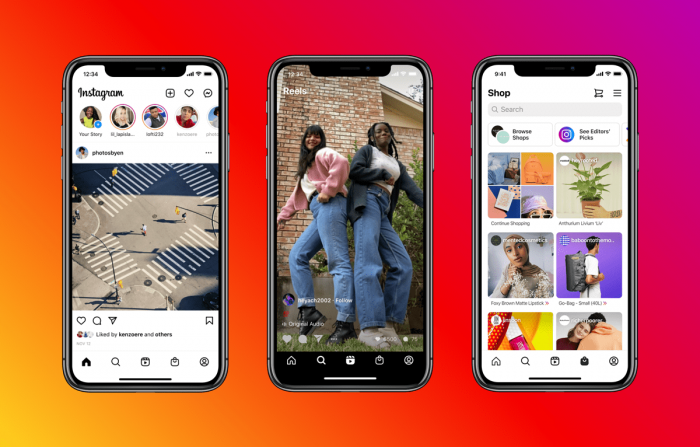 The update has essentially moved the 'notifications' and 'create a post' tab to the top right-hand corner and has replaced them with new tabs for Reels and Shopping. These are now anchored at the bottom of the app. Previously, it was possible to access your notifications and create a post from anywhere in the app, whereas now it seems that you are only able to access these functions from the home screen. Some app users have expressed their disappointment with this, including the American musician Tyler, The Creator. He called out Instagram on social media, expressing his disinterest in the update and his want for an 'option to retain the layout for photos and friends.'
So, to those who may not be totally clued up on the newest feature of Instagram: what actually are Reels? The official Instagram blog describes Reels as "short, 15-second multi-clip videos with audio, effects, and new creative tools."
They also have a new designated space in the 'Explore' tab which "offers anyone the chance to become a creator on Instagram and reach new audiences on a global stage." Different editing tools – similar to TikTok – are available, so you are able to add audio from the Instagram music library, use AR effects, and align clips together to allow transitions in your Reels. This space is personalised to an extent in that it shows content from profiles you follow, similar content that you engage with, and content that is made in your country which seems somewhat similar to the current TikTok algorithm. Some Reels will be shown which have a 'featured' label. These are a selection of Reels chosen by Instagram to help each user discover different and original content. It doesn't seem entirely clear what users have to do to achieve a featured label, but it does seem to favour those who have regularly utilised the function.
The Shop tab is essentially a hub for brands on Instagram who have utilised the Instagram Shopping feature. It makes it easier for users to shop for products advertised on Instagram and support small businesses. There are recommendations of products shown to users which have been personalised to suit every user, editor's picks and new product collections.
The reaction to the latest update seems to have been met with some criticism from users and influencers alike. It's no secret that since Instagram updated their algorithm from displaying posts in chronological order, users of the app have expressed their unhappiness with it, and the general consensus across social media platforms was that Instagram should focus more on granting their users wishes in this sense, rather than changing the full layout of the app. Head of Instagram Adam Mosseri justified the reasoning behind the app's update via a video uploaded to his Twitter page. He explained that:
"The biggest threat that we face is that the world changes around us and we become less relevant. We want to lean into those changes and adapt to avoid that. One of the things we've noticed is that some of the trends that existed before this year have accelerated. The two most relevant ones are entertaining video pioneered by TikTok and the shift of shopping from offline to online. Both video and commerce are an important part of Instagram and have been for years."
Despite the negative reaction from some Instagram users, Reels should still be incorporated into your brand's social media plan. Firstly, as we know, the Instagram algorithm seems to favour those who regularly utilise the newest features, and since Reels are still a fairly new element to Instagram, it would certainly be kinder to brands who are regularly creating and posting Reels.
For those that already use TikTok (if not, why not?) it is easy to post the same content across both platforms due to how similar they are. The only downfall to this is that Instagram Reels are limited to a duration of 15 seconds, whereas TikTok videos can last for up to one minute, so you may have to shorten your existing content to fit.
Although influencers and users of Instagram alike may be wary about Reels being so prominent in the interface of the app, one thing is for sure; if the success of TikTok is anything to go by, this is a trend that you should most definitely jump on.