On the 22nd of September 2021, Google rolled out several updates across their Local Search platform that will affect various businesses within the travel industry as part of their focus for "building a sustainable future for travel".
These updates build off the back of the travel tools that Google shared last year to help travel users find health and safety information with more ease during the height of the pandemic. Now they want to continue streamlining travel on Google, this time ensuring that users can find sustainable options while travelling – "no matter what you're doing or where you're going".
ECO Certified Badge
From the week of the 20th of September 2021, when you search for hotels, you will start to see a reflection of their sustainability efforts. Hotels that meet a high sustainability standard can be certified by an independent, third-party organisation, such as Green Key. Once approved, hotels will have an eco-certified badge next to their name.
Having this badge displayed next to a hotel's name can help distinguish them in the local search results, possibly giving them extra visibility in a somewhat saturated environment.
Sustainability Attributes
Suppose a hotel has specific sustainability practices that they would like to highlight. In that case, these can now be added to a new Sustainability attributes section, similar to the expanded attributed and COVID safety measures that Google have added in the past. Users can find these by clicking on the "About" tab to see a list of what hotels are doing in terms of sustainability – from waste reduction efforts and sustainably sourced materials to energy efficiency and water conservation measures.
Ticket Booking Links
For attractions, Google has rolled out ticket booking links, with a wider rollout planned soon. Relevant businesses can connect with travellers across Google for free with this new feature. Appearing in addition to general information when users search for specific attractions such as Big Ben or London Eye, for example, Google will also now show booking links for basic admission and other ticketing options if they are available.
The new Ticket Booking Links will benefit users by providing a complete, accurate, and timely view of in-destination activities.
In the coming months, the wider rollout will see Google begin to show information and booking links for experiences in a destination, like wine tasting in Paris or bike tours in California.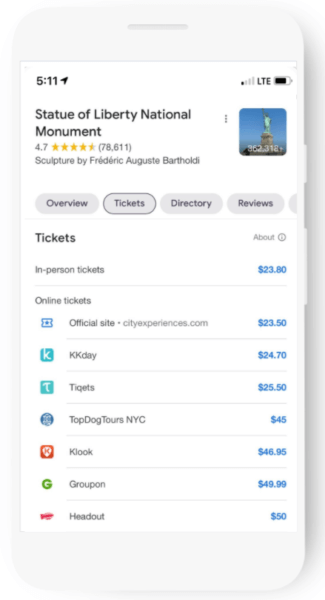 Things To Do Ads
Google is also introducing a new paid product for travel and leisure businesses: Things To Do ads. The Things To Do ads will appear at the top of the search results when users search for tours, activities or local attractions on Google. The ads will show details such as images, reviews, pricing and include a booking link, as shown in the screenshot.
Things To Do ads are an automated ad format that will pull from data in your inventory feed based on the ad group label. Advertisers can designate a budget and target users based on their country of residence and device type.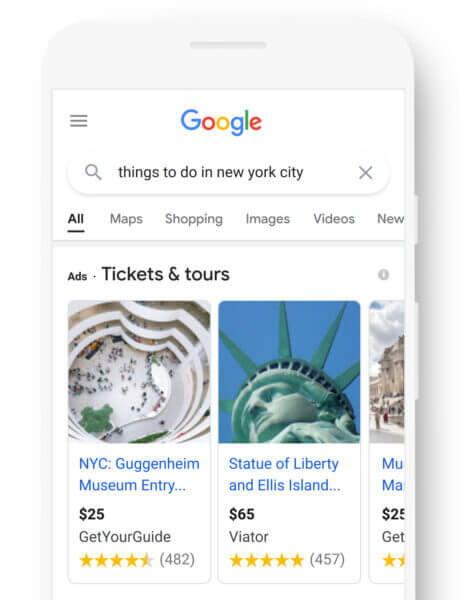 Google Travalyst Partnership
In addition to Google's recent updates, it was announced on the 22nd of September that Google had joined the global sustainable travel Coalition, Travalyst. Google will be joining existing founding partners Booking.com, Skyscanner, Trip.com Group, Tripadvisor, and Visa.
Google has joined the Travalyst partnership as part of their mission to make travel more sustainable. As part of the group, Google will help to develop a standardised way to calculate carbon emissions for air travel. This free, open impact model will provide an industry framework for estimating emissions for a given flight and sharing that information with potential travellers.
Google will also contribute to the coalition's sustainability standards for accommodations and work to align their new hotel features with these broader efforts, which could lead to further Local search sustainability updates further down the line.