On the 23rd of March of 2022, Google announced on Twitter that their product reviews update is now rolling out for English-language pages. This is the third product reviews update in a one-year timeframe. The first commenced in April 2021, followed by the second update at the end of the year in December 2021.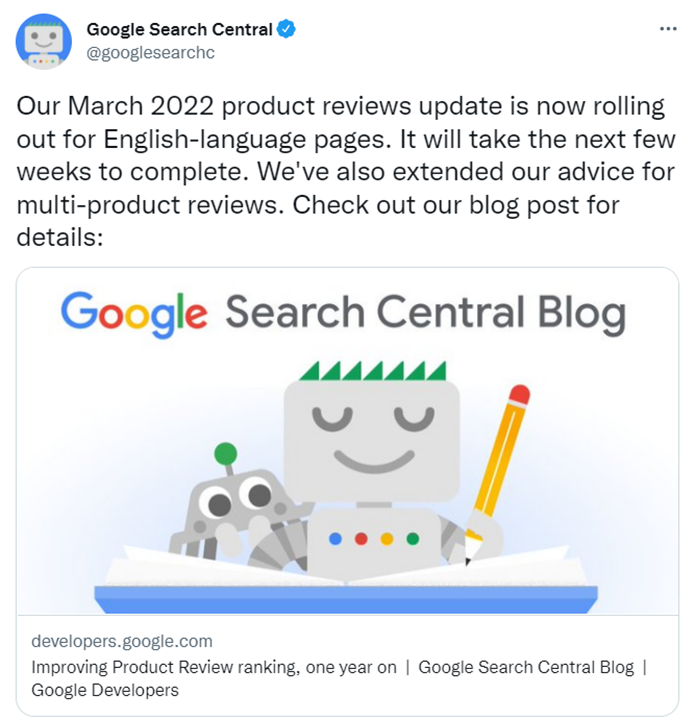 The most recent update builds on the previous two updates that promote high-quality product reviews and "reward[s] creators who are earnest in being helpful", stated Google employees Perry Liu and Alan Kent, 2022.
Google claims that these updates aim to "better reward content" so that Google search shows "the most useful and helpful information possible" to their users.  
In April 2021, Google shed a light on the focus of informative reviews when they provided a list of questions to help guide creators to write high-quality product reviews. The full list can be found here.
In December 2021, Google introduced an additional two new best practices that are now to take effect in the recent March 2022 update. These best practices indicated that creators who offer searchers additional retailer options and provide review evidence in the form of visuals will improve the overall quality of a review.
In an article published last week, Google verified that these best practices still apply to the third product reviews update. Here, they also added three additional pieces of advice to thrive in the search engine:
"Are product review updates relevant to ranked lists and comparison reviews? Yes. Product review updates apply to all forms of review content. The best practices we've shared also apply. However, due to the shorter nature of ranked lists, you may want to demonstrate expertise and reinforce authenticity in a more concise way. Citing pertinent results and including original images from tests you performed with the product can be good ways to do this."
"Are there any recommendations for reviews recommending "best" products? If you recommend a product as the best overall or the best for a certain purpose, be sure to share with the reader why you consider that product the best. What sets the product apart from others in the market? Why is the product particularly suited for its recommended purpose? Be sure to include supporting first-hand evidence."
"If I create a review that covers multiple products, should I still create reviews for the products individually? It can be effective to write a high-quality ranked list of related products in combination with in-depth single-product reviews for each recommended product.  If you write both, make sure there is enough useful content in the ranked list for it to stand on its own."
This third update confirms that Google regards the quality of reviews as an important ranking factor, and those who already provide great quality product reviews will be rewarded.
As such, websites that contain product reviews should track any recent changes in their search engine position. Those who notice a drop in performance should ensure that their reviews meet the best practices outlined by Google to remain competitive in search engines.