In a bid to help users find the most relevant news information, Google announced on December 6th, 2021, that there will be changes to Google's 'Top Stories' search section on desktop.
Although it is too soon to determine the impact on website performance, there are concerns surrounding how this update will impact website traffic due to the new display format.
What Has Changed?
Previously, 'Top Stories' were once available to view as a carousel or list structure on the 'Search' page, but the new Google update now shows top articles in a grid format.
'Google News' stated this format will: 'make more room for quality content – beyond just the most recent coverage – as well as a range of sources to bring more context and perspective to the day's news.' They reported on their official Twitter account earlier this week.
What Does it Look Like?
This format was first introduced to 'Mobile Search' two years ago, but the new update will be viewed by desktop users globally over time. An example of the new display update is shown below: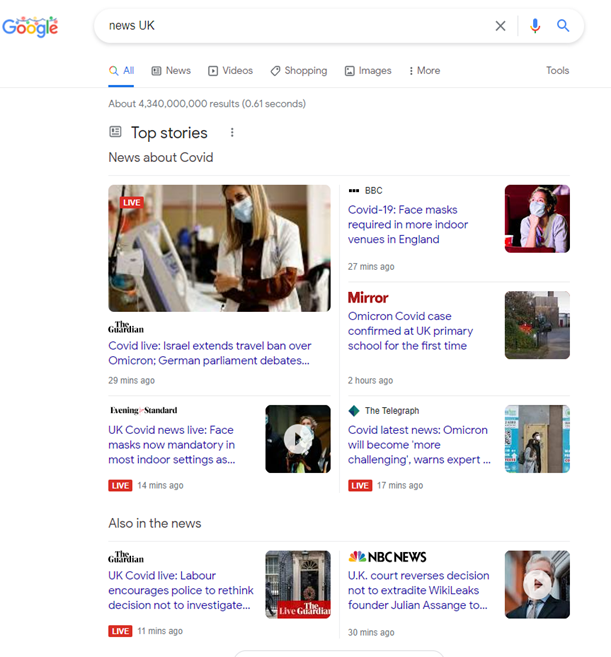 What is the Significance?
A Google representative argues that they use the 'latest machine learning' when developing Google 'Top Stories' to help people 'dive into the most useful, timely articles available'. Stated by Duncan Osborn, a Google Product Manager.
Google has historically shown a selection of article suggestions at the top of the results engine results page. So, in theory the new Google update does not seem too drastic.
This new feature could be seen as another Google strategy to help users find 'the most useful, timely articles available'.
However, when you look closer, as you can see from the search example above, the new grid system does not mean that articles are allocated the same image and text sizes.
The introduction of unequal image and text sizes could have an impact on the publisher's traffic. For example, publications that are granted a larger grid allocation could have the potential to both attract and deter users from clicking on their articles.
Either way, online sources have expressed their concern over this new update. Some recommend the impact of this new Google update should be monitored by creators to discover if the new update has a knock-on effect on the traffic they receive.
As this new update will be carried out globally on desktop devices, we will soon see the wider impact of the new Google 'Top Stories' display update and determine if new strategies are needed to overcome any new obstacles put in place.