Sitting in the office this morning, a selective handful of us realised that something had massively changed on our Instagram accounts. All our likes had disappeared, on both image and video content. This hasn't just affected our own personal uploads but likes have also disappeared on accounts we follow meaning you can't see how popular other people's content is.
Over the last few months, this potential update has been in beta within the US and Canada as well as New Zealand, Australia and Japan. The UK seems to be next in line for this global test, although the amount of users affected is currently unknown. However, only a very small number of our office seems to be affected by the update and no evident algorithm has been used to select accounts.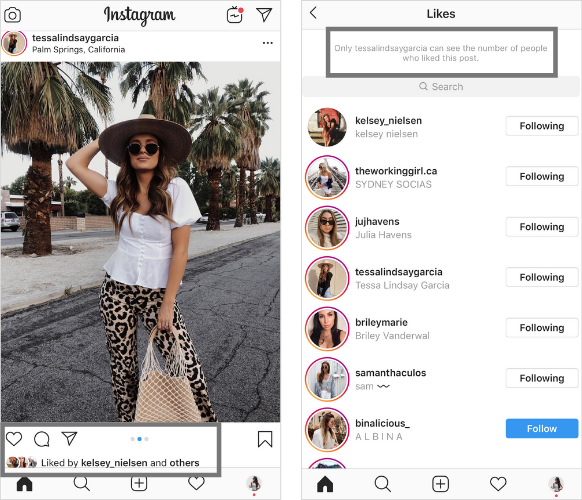 Instagram have stated the reasoning behind hiding users likes is to remove the pressure many feel whist engaging on the platform as well as reducing the general negative impact surrounding social media as a whole. It could be argued that Instagram is perhaps the platform users have the most negative interaction on. Most users follow famous celebrities and influencers meaning their feed is jam packed with images representing a luxe lifestyle, which is more often than not out of their reach. Ultimately leaving users (mostly from the younger generation) feeling unfulfilled, unsuccessful and unhappy with their regular, perfectly normal lives. Instagram believes removing likes will alleviate the pressure of users striving to achieve 100s of likes for a single post and feeling deflated if the likes don't come roll in within the first five minutes of posting!
This update will definitely impact the role influencers in marketing with many of them already hitting out against the testing. Not only does this affect influencers and micro influencers, celebrities are also speaking out about it. Unsurprisingly this has been a mixed bag of opinions with the likes of Nicki Minaj stating she will stop posting due to hidden likes. On the other hand, Kim Kardashian believes it would be 'very beneficial for users' and their mental health.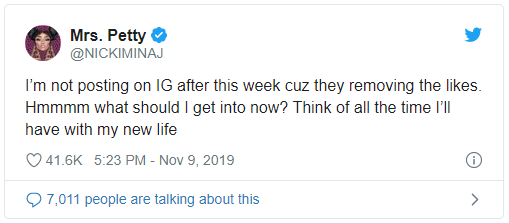 We believe that hidden likes will generally mean companies gravitate towards promoting Instagram Stories. This has already become a rapidly popular marketing method on Instagram for a number of reasons including a higher reach. This will likely to continue to grow and possibly become the sole marketing method on the platform. However, it's impossible to know until this testing become an established update for all users across the channel.
We think this is definitely an update to keep an eye on over the coming months. It'll be interesting to see how different companies and influencers either embrace or reject the update and whether or not Instagram actually sees the update through after this global testing. We'll keep you updated as this test unfolds!