The Popularity Of Voice Search Is Rising
Voice search has been around for a while; however its popularity has soared recently. In 2019 most searches occurred on mobile devices. During this time voice search became the second most popular choice amongst users for mobile search, behind text input to mobile browsers. The gap between the popularity of these two search methods has also narrowed over the past two years. This means voice has the potential to become the most popular search method in the coming years.
Smart speakers are often used to make calls and carry out household tasks. Though on mobile this is currently also the case, last year research by Microsoft found that a large percentage of consumers also use voice search to make purchase decisions, using their digital assistants for the purposes below:
Searching for a business (47%)
Researching a product (44%)
Comparing products or services (31%)
Adding items to a shopping cart (26%)
Making a purchase (25%)
Microsoft also found that 70% consumers surveyed expect digital assistants to help them make retail purchases within the next five years. This means it is time to start thinking about the future of voice search on mobile, and how it will impact paid search advertising. This poses the question; how could paid search campaigns be optimised towards voice search?
What Makes Voice Search Different & Ways To Optimise For It
Consumers use voice search differently to other search methods. This means it is important for PPC advertisers to consider a few key factors to capitalise on voice search:
Voice Search Is Conversational
When using voice search, searches are carried out in an informal, conversational style. Google found that 70% of requests to Google Assistant are expressed in natural language. Consumers use long tail statements which are question orientated, including words like 'where', 'when', or 'what' instead of short statements. For example, when searching for trainers, a consumer using voice search might use the phrase 'hey google, what is the best Nike trainer for running' rather than 'best Nike trainer for running' as they might do when typing into a search bar.
One way to try optimising towards this is using long tail keywords within paid campaigns. Search query reports can be used to find the best performing long tail queries. To really focus on voice searches try filtering for terms containing the names of voice assistants such as 'ok google' and 'siri'. Creating an exact match campaign for voice search using these long tail keywords identifies the user intent behind voice searches which you already match to. This allows bids to be increased on keywords with strong search intent behind them such as 'buy me' statements, which have a higher chance of converting.
Another option which has higher search volume potential is to try creating a broad match modified campaign, targeting keywords which only contain the names of voice assistants. This could generate higher search volumes, maintaining a higher quality score. Also, this creates the opportunity to grow a larger bank of relevant voice search terms to be built up in search query reports. This allows a wider scope of converting queries to be identified and added to the campaign.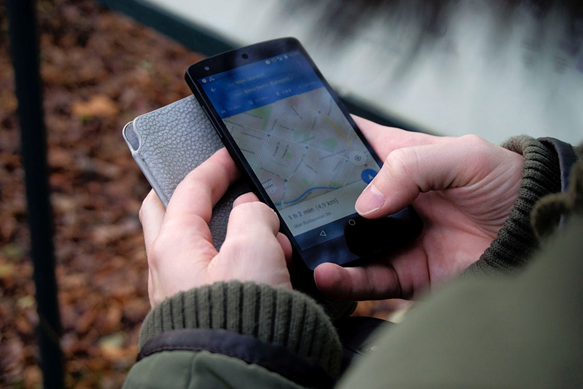 Voice Search Is Local And Mobile Focused
Often consumers use voice search when they are on the move and ask their mobile for assistance. This drives a large volume of 'near me' searches. According to Google 'store open near me' searches have grown by over 250% over the past two years. This means that for businesses with multiple stores and locations, location-based voice searches can be valuable in driving foot traffic and sales.
One way to optimise towards this is to try building campaigns using location targeting and long tail keywords including the brand or product and the location. This could be built upon by adding location extensions, which show additional store details and opening times.
Another approach to this is to try creating a Google search campaign optimised toward local ads, which aims to drive local traffic. This campaign type automatically sets location targeting to geographic locations in a radius around physical business locations, as specified in the campaign build. This means that 'near me' searches can be targeted with accuracy.
Why Does This Matter?
Though there has been a lot of discussion around the impact of voice search on SEO, there has been less buzz around its impact on PPC. Voice AI and machine learning are continuously improving. Further, right now there are no monetised in-stream ad options available for advertisers via digital assistants. With smart speakers having no on-screen visuals to show ads on, this has the potential to impact PPC performance as their popularity continues to grow. This could result in paid performance dropping over the coming years, especially for local focused advertisers. With this in mind, the growing popularity of voice search is likely to have an increasing impact on how paid search campaigns are structured and optimised on mobile in years to come.