To meme or not to meme? That's not the question. The real questions at hand are: why and how should you incorporate memes into your social strategy?
According to Liam Gil of Lifewire, memes are "virally transmitted" pieces of content that offer pointed commentary on cultural symbols, social ideas, or current events. Traditionally, most of us considered memes solely as an amusing image accompanied by a funny caption in that classic black and white font. How many times have you seen the "one does simply not" template taken from The Fellowship of the Ring? Or the iconic "this is fine" meme from KC Green's 2013 webcomic "On Fire"? These images have spread like wildfire on the internet over the past few years.
Although it is a consensus that memes are a hybrid of funny images with accompanying text, Richard Dawkin's definition of the phrase tells a different story. His original explanation of the term describes memes as "a unit of cultural transmission, or a unit of imitation and replication." Thus, memes aren't always in these humorous picture formats. But rather, memes come in a wide variety of formats.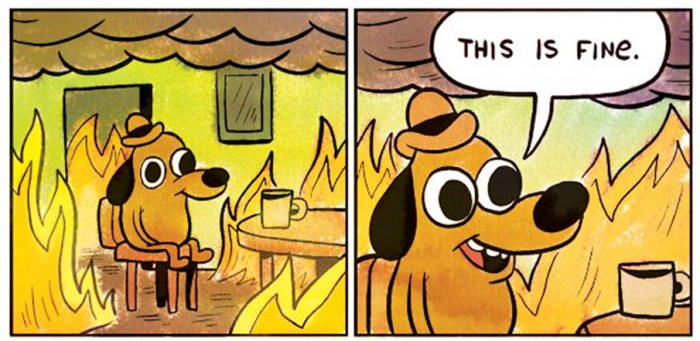 The boom of TikTok over the lockdown period has given rise to video-first content, meaning that audio and audio-visual content are much more likely to play a role in meme dissemination. In fact, hashtags, dances, audio, video transitions and certain video formats also have the potential to go viral on this platform.
So, what is the importance of going viral? What can it do for you as a brand? Well, according to an article written by Debbie Moran for Recurpost, not only can viral marketing play a big role in your brand image, but it can also help grow brand awareness and attract potential consumers. For instance, if your content spreads rapidly across the internet, it may help place you at the top of the consumer's mind the next time they make a purchasing decision.
Take Duolingo as an example. The language app's social team has amassed a colossal following of over 4.5 million by posting TikTok memes; something which has led to some tangible results for the company. For instance, Duolingo has soared into the top spot for educational apps on the Apple App Store and according to Statista figures from February 2022, it has accumulated significantly more monthly downloads compared to its close rivals.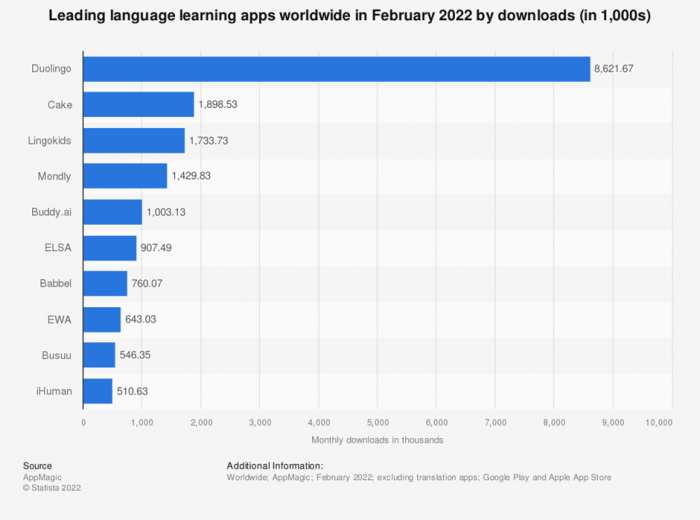 In an article called "4 reasons to use memes in your marketing" from the Digital Marketing Institute , the author Clark Boyd notes that memes can showcase the human element to a brand. This in turn allows brands to authentically connect with their audiences and play a part in relevant discourses on the internet.
Consumer brand Aldi UK are great at jumping on relevant trends on Twitter in particular. If you've followed Twitter discussions during the highly popular showing of Love Island over the summer, you may have noticed this brand participating in conversations and producing relevant memes on the platform. This has helped Aldi connect with the public who they target, but who also enjoy watching Love Island.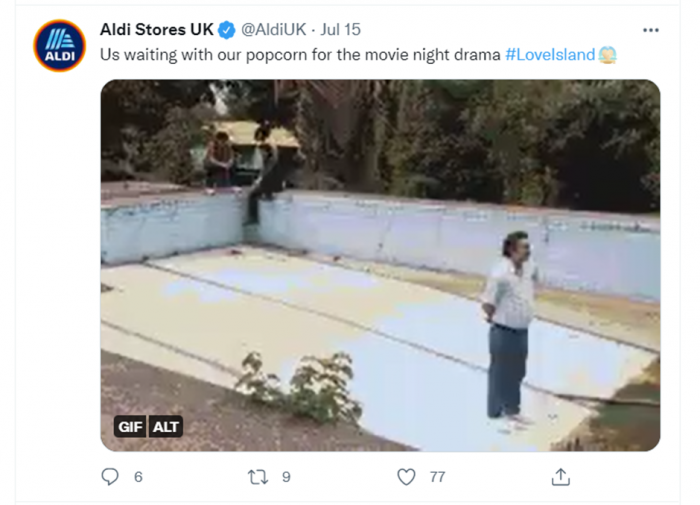 It's safe to say that adopting meme content and going viral can do a lot for your brand. But how do we go about incorporating memes into our social strategy? Let's dive into each social media platform one by one to help you get started.
TikTok and Instagram
It's no secret that Instagram has followed in the footsteps of TikTok in the last year or so. Introduced in 2020, Instagram released its current Instagram Reels feature to compete with TikTok's video only platform.
Though both have their similarities, content that is suitable for TikTok doesn't always translate well to Reels and vice versa. What the apps do have in common, is that they both have mechanisms that allow content to go viral. If you scroll through Instagram Reels, you may notice a diagonally pointed arrow symbol cropping up next to certain audios – indicating that the sound in question is trending at that time.
Similarly, you will notice trends pop up as you navigate TikTok's homepage – whether it's trending hashtags, sounds, or topics of conversation. TikTok will also offer up some suggested searches based on what is popular at the time. This can be an invaluable tool for incorporating trends into your social media strategy.
The biggest challenge with following trends is that it requires a team that is agile and able to jump on bandwagons quickly. Trends on TikTok and Instagram Reels dry up fast. Unlike traditional memes like the "Confused Math Lady" template from the Brazilian telenovela Senhora do Destino that can remain relevant for years and years, a trend from TikTok or Reels can fall flat after only a couple of weeks.
So, it is critical to get the timings right. For example, we posted an Instagram Reel on one of our client's profiles with a trending audio that exceeded their average engagement and reach count. This demonstrates the impact that a trending audio sound can have.
Although keeping up with memes and trends can help with success on these platforms, it isn't always realistic. So, it's always a clever idea to have more content in your back pocket to incorporate into your social media strategy.
Brendan Gahan of Sprout Social writes about how Duolingo have maintained its success on TikTok through a flicker, flash and flare strategy which involves a mixture of reactive, planned/episodic content and interactive content such as large-scale campaign initiatives. Not only has this proved fruitful for Duolingo, but the company also isn't overly reliant on trend hopping and potentially entering the territory of following trends that are irrelevant to the brand.
Besides trend hopping, there are plenty of other ways to appeal to your audience – whether it's on TikTok or Instagram Reels. Making short, entertaining, to-the-point videos, using a loop effect and implementing fun transitions are just some of the other options you can explore.
But if you're just looking for somewhere to begin, why not jump on a TikTok or Instagram Reel audio trend and see how it goes?
Twitter
Twitter is a wonderful place to start when it comes to hashtag or phrase-centric memes. In fact, the platform's trending page is designed to list popular hashtags and words on the daily – meaning that if you are quick to incorporate these words into your tweets, the possibility of virality is boundless.
During its peak at the start of 2022, Wordle was an extremely popular phrase and hashtag on Twitter. This was amplified because of how easy it was to share your game score with others in the form of a Tweet. Naturally, a lot of brands took to this trend too. The Swedish furniture store Ikea released an especially notable tweet during that time which fans of the New York Times' game seemed to enjoy.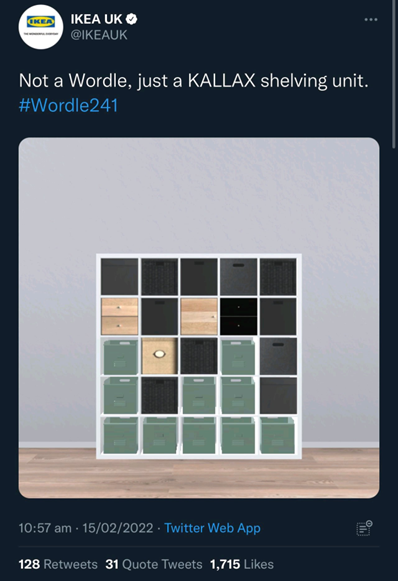 Twitter's GIF feature is yet another element of this platform that can drive engagement. Often regarded as another common type of meme, there are a plethora of reasons why these assets can be of use to you. Most notably, animated GIFs are more likely to stand out amongst hundreds of Tweets given that they are more visually stimulating.
As a matter of fact, an article from Add This Academy noted that GIFs could garner a 20% increase on the engagement rate for B2C brands, along with a 167% increase on click through rates. The same article also makes references to GIFs as an efficient way to convey your brand's personality, broadcast a brief message or evoke a response to your content.
Multi-platform sharing
Another question you might ask is whether memes can translate across various platforms?
In the ever-changing world that is social media, it can be hard to predict how content will perform. What takes to TikTok, might fall flat on Twitter, and whatever is a hit on Facebook might render others confused on Instagram.
Though you can't always guess how a meme will perform across all platforms, there are some social media mechanisms that will give rise to certain meme formats, or post timings. As mentioned in this article, there is a timebound nature to trending hashtags on Twitter, or trending audios on Instagram Reels and TikTok. This means that the time of posting may be more critical for memes under trending hashtags or audios across those three platforms. Additionally, as Reels and TikTok are video-first platforms, video memes are likely to perform a lot better on those interfaces than on Twitter.
As most networks allow for image posting, it is likely that picture-based memes will be suitable across many of them. A recent phenomenon where users have shared Roger and Adam Hargreaves' Little Miss and Mr Men characters with some entertaining text alterations across Twitter and Instagram. We've seen brands both large and small hop aboard this trend, including Nandos UK, Little Moons, and an 8MS client – Fibre One. For some of these brands, following suit with this trend has proved to resonate with followers, given that these posts received ample likes and comments across platforms.
On platforms like Facebook, Instagram, LinkedIn and Twitter that allow for posting in a multitude of formats (e.g., images, carousels, videos, GIFs etc), it is always worth taking a data driven approach. Try using previous insights to determine meme post timings and formats. Or if you feel like experimenting, why not try something new? Feeding your social platforms with new data is rarely a bad idea. Worst case scenario, you'll gain some insights to help further inform your social traffic.
So, do you think you are ready to enter the meme game?
Get in touch with us today to learn more about how we can support your social media presence.