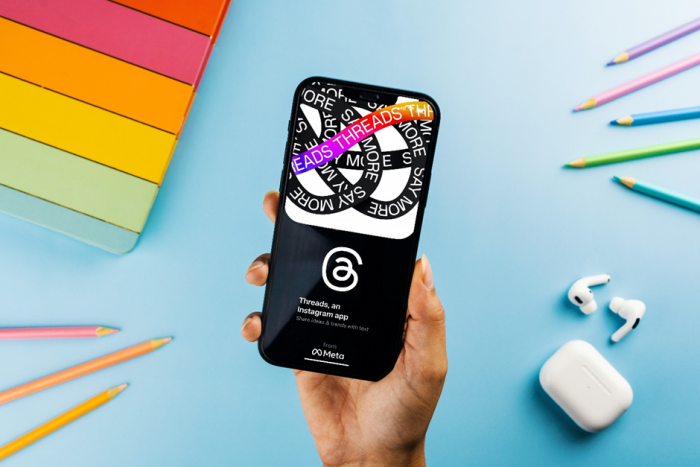 Social media is the main space to discover the latest updates and participate in conversations, and one of the key platforms in the game is Instagram. Instagram, originally dedicated to image and video sharing, has launched its newest social media app, Threads.
Meta (who own Facebook and Instagram) announced the app launch recently, and aims to extend what Instagram does best to include text sharing, as well as photos and videos.
What can the Threads app do?
Threads has a similar user experience to Twitter. On your profile, you can generate posts with a maximum of 500 characters, share links, upload photos and videos (with a duration of up to five minutes), respond to other posts, and repost content from other accounts. You can also share a Threads post to your Instagram story or to any other platform you choose.
Finally, Threads enables you to follow and establish connections with friends and creators with similar interests, including those you already follow on Instagram and beyond.
How to get a Threads account?
Getting set up on Threads is easy, and you can import all your existing Instagram profile information to jump into Threads in just a few taps:
Download the Instagram Threads app available on iOS and Android.
Open the app and select 'login with Instagram' to sign in with your existing Instagram account.
Tap 'import from Instagram' to bring in your profile information. There is the option to populate your details manually if you prefer. 
Choose whether you prefer a public or private profile. Those who select a private profile will have the option to accept or decline follow requests.
You'll then see all the people you currently follow on Instagram. Tap 'Follow All' to follow these individuals on Threads, or be selective with who you follow. 
Take the final step and tap Join Threads.
How to use Threads?
Threads offers an easy to navigate user experience with similar sections to most social media apps. This includes:
Profile – Shows your profile, bio, profile picture, and links to your Instagram page with editable sections.
Home – Displays all the threads from recommended posters, including people you follow.
Search – This function lets you search for accounts plus serves recommended profiles and content.
Compose – Allows you to create your post in text, image or video format.
Activity – This is where your notifications are stored. 
Will Threads be bigger than Twitter?
There has been some turbulence concerning the current reigning text app, Twitter. With recent poor sentiment around combatting hate speech, Instagram sees an opportunity to launch a community of positivity.
In a recent interview on the tech news site The Verge, Instagram owner Adam Mosseri stated: "Obviously, Twitter pioneered the space, and there are a lot of good offerings out there for public conversations. But just given everything that was going on, we thought there was an opportunity to build something that was open and something that was good for the community that was already using Instagram."
Threads emphasises fostering positive and constructive discussions. You can manage who can mention or respond to you on the platform. Similar to Instagram, you can also utilise the option to add hidden words to filter out replies in your threads that contain particular terms. You can also unfollow, block, restrict, or report a profile on Threads if needed. Plus, any accounts you have blocked on Instagram will also automatically be blocked on Threads.
With Twitter implementing paywalls and restrictions on certain features, Threads also sees multi-platform compatibility as a unique selling point. As the app continues to develop, Threads plans to be compatible with ActivityPub, the open social media protocol established by the World Wide Web Consortium (W3C), the body responsible for the open standards that power the modern web. By achieving this compatibility, Threads could seamlessly interact with other applications that support the ActivityPub protocol, including Mastodon and WordPress. This development would enable connections that are currently not feasible on most social applications available today. 
It's tough to predict the future but the app has already had a successful launch. Threads has been rolled out in more than 100 countries, and as of 12th July 2023, the app download count is over 100 million.
Do you need any support navigating Threads or honing your social media strategy in light of this new platform? Get in touch with the team at 8MS today!