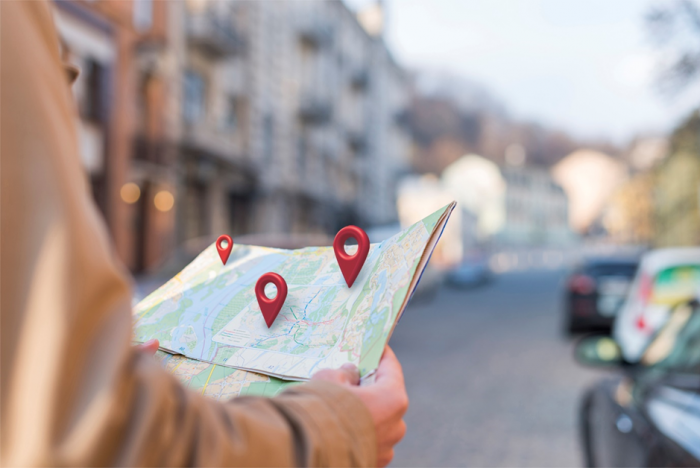 If you own a brick-and-mortar business selling locally, chances are that online visibility could make or break how many customers visit you both in-store and online. After all, 46% or more of all Google searches are looking for local information (Source: Hubspot).
2022 was a year of change and unpredictability for Google as they dropped ten algorithm and search updates, both announced and unannounced, leaving a huge amount of uncertainty for many business owners. In 2023 and onwards, they show no sign of slowing down. So, it's essential to follow best practices and create strong foundations to futureproof your business.
What is local SEO?
Local SEO (or Local Search Engine Optimisation) is the process of leveraging your website and online presence for local results and searches.
Let's say you were searching for a restaurant in your area. Chances are you would search Google for the best answers, read reviews and recommendations, or get in touch with a restaurant to see if you can book a table.
Because of what you have searched, Google has determined that your query has local intent and therefore serves you with the most appropriate results. Local intent keywords commonly use a town or city name but can also include keywords such as 'near me' and 'close by' as well as other variations.
Let's look at where local searches appear on search engine results pages. We have used restaurants as an example, but this works for many industries.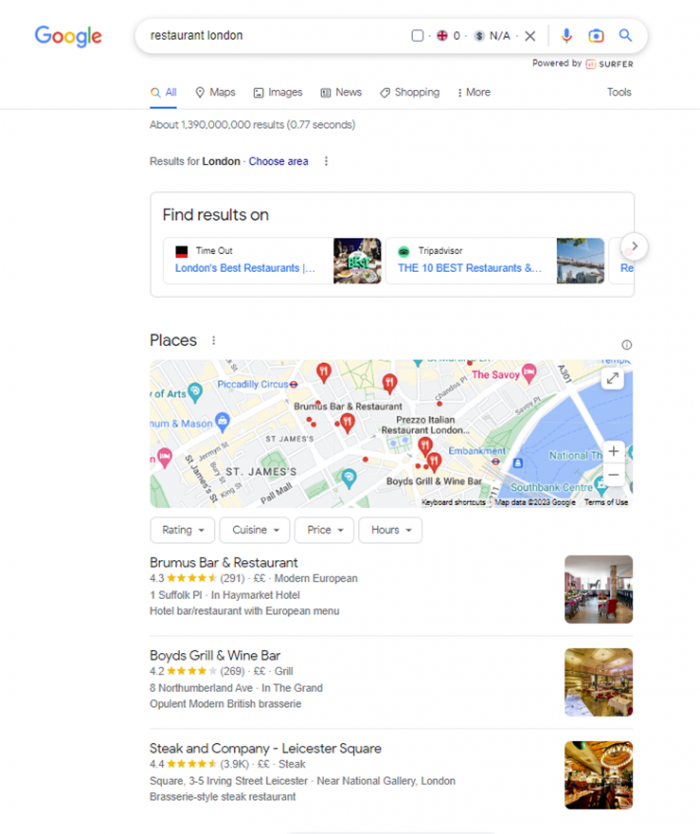 When searching for keywords with local intent, you will be shown Google Business Profiles first, also known as the map pack, before the organic results. You may wonder why the image above only shows three results for London. This is called the local 3-pack, where Google has determined the top results based on various metrics, which we will dive deeper into later in this article.
Aside from the map pack, you can also rank in the organic results for local intent keywords, shown below.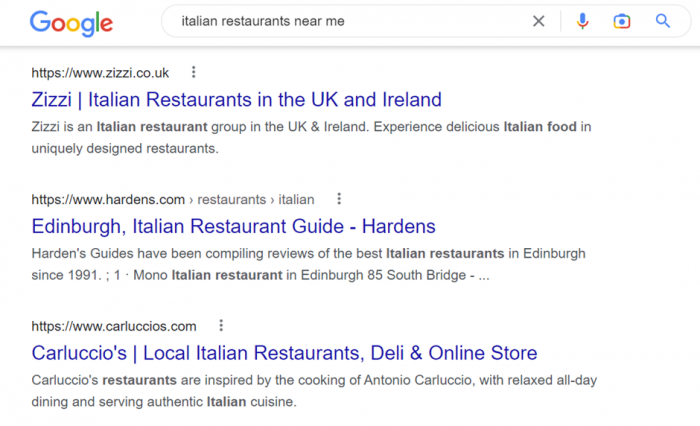 Google may also reward you by featuring you in related searches or featured snippets when you use local SEO correctly.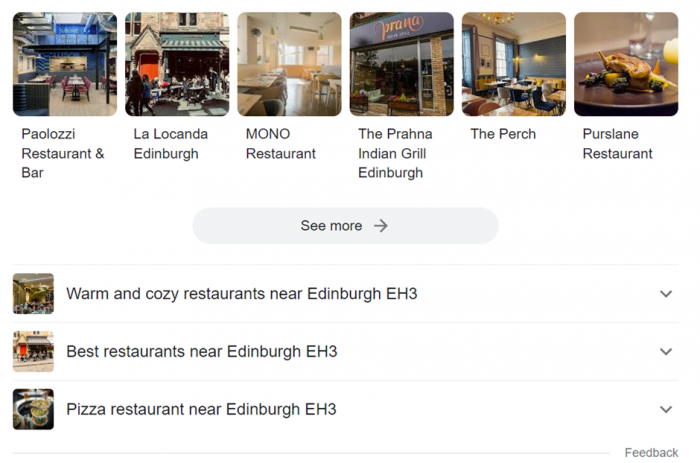 What is the difference between SEO and Local SEO?
Traditional SEO and local SEO differ in ranking factors, so an international SEO strategy would not be as relevant as a local campaign. Local SEO focuses on gaining visibility for a specific location, compared to traditional SEO focusing on a wider audience.
For example: Let's say a business owner owns an electrician company in Edinburgh, Scotland. They would see a greater benefit in using local SEO to target Edinburgh-based keywords, such as 'Electricians Edinburgh' rather than just 'Electricians, which would return a completely different set of results.
Traditional SEO uses E-E-A-T (Experience, Expertise, Authority, Trust), while local factors include:
Proximity: How close the customer is to a local business when searching
Relevance: How closely the results match the search intent
Prominence: How popular the business is with its users online
How to get the most out of local search
Local keyword research
Local keyword research is an important starting point in understanding what your target customers are searching for online. Without this, you risk neglecting essential keywords or targeting the wrong ones altogether, which can also negatively impact you. After all, our aim here is to bring more qualified leads through the door or website.
A well-researched piece of keyword research allows you to:
Create landing pages that target specific keywords that people are searching for online
Find more ways to discover your target customer
Understand the behaviour of potential customers online
Find potential extended products or markets that you can expand into
Competitor Analysis
Competitor analysis and keyword research often go hand in hand and allow you to discover important phrases that rank highly on the search engine.
Once your target keywords have been identified, search for these online and see who is ranking in the top positions. This is usually a good indicator of a well-optimised page or website and allows you to create a local SEO strategy accordingly.
A good starting point should analyse the following factors:
Overall website and landing page optimisation
How well their Google Business Profile is optimised and the volume of reviews they have
The frequency of their updates and the topics they write about
How relevant is the competitor to you: are they in the same location, serve the same customers, etc.
Google Business Profile
A Google Business Profile (recently renamed, but also known as Google My Business) is an essential factor for local SEO, so don't fall at the first hurdle. Make sure that you have claimed and verified your business listing.
It's firstly important to understand that consistency is key here. Google wants to know that you are a legitimate business, but as Google is based on an algorithm and cannot physically see your business, we need to send them signals to do this. The first way to do this is to make sure that your business Name, Address, and Phone number are exactly the same everywhere on the internet, especially on your website. This is called NAP, which we'll go into more detail on in the next section.
Next, you want to make sure that you include as much info as possible. Business Profile works on a points-based scoring system, and you will be rewarded for having a complete profile that is updated regularly and interacts with customers. These areas are:
About section
Business category (you can also use secondary categories if they're relevant)
Local phone number
Services
Products
Website
Location with an accurate map pin
Up-to-date opening hours
If relevant, you can also add accessibility (if your location is wheelchair accessible) and other attributes such as gender-neutral toilets and if an appointment is required before visiting.
Top tips:
Google loves to see regular updates, and they will reward you for doing so:
Post at least 3-5 times a week with an update. This can be special offers, news, updates, or events. Think of it as social media for your customers. Don't forget to add a call to action and link the post to your website. If you don't have time to post every day, you can schedule them in advance with a tool like Planable to save you time during the week.
Reply to all online reviews: both good and bad. This shows that you are interacting with customers and will also give you a chance to potentially win back customers should anyone have a poor experience.
Upload photos – Business photos are one of the most interacted with areas on many profiles. So, be sure to keep these up-to-date.
Add your services to the products area of the listing. This is an underused trick but can help you stand out from the competition. Doing this can add images, a description, and a call to action. The service area does not allow this, but it's still good to add them there too.
You can also add/answer FAQs from customers; don't ignore these, as they can be invaluable for users looking for information.
Optimise and create NAP citations
Citations are another important aspect of local search and are made up of local listing sites and directories. They provide alternative ways for users to find you online and send signals to Google about your business.
If you have searched for a business online, you will likely have come across sites such as Yell, Hotfrog, Bing, or Apple Maps. These are just a few examples of listings or citations that can be created. These will vary from industry to industry, but a good rule of thumb is to create a mixture of niche-relevant, general, and high-authority citations.
Here is an example of a Yell directory citation:

The most important aspect of citations is consistency within your NAP (Name, Address, Phone Number). This should be structured exactly the same across your website, directories, Google Business Profile, and local listings.
Providing the search engine with two different versions of your business details is a big red flag. So if you are an established business, you can use tools such as Bright Local to check which ones need to be updated. If you are just getting started in business, you essentially have a blank canvas to follow all of the best practices.
Mobile devices first
Smartphones are now an important aspect of our daily lives, and this also means that a lot of people will be searching for local businesses, services, and information on their phones.
If you have visited a website that takes a long time to load, you'll know how frustrating it can be. Not to mention, your customers will have a poor user experience if your website is slow or sluggish. This can have a drastic effect on how many people visit (or leave) your website. Google notices these issues, and you may lose out on being featured in search results and lose customers.
Make sure that your website is optimised for mobile screens. A mobile-friendly site allows users to navigate and easily find the information they need.
Local landing pages
The purpose of a local landing page, in its simplest form, is to attract local customers. This allows your business to appear in search engines for phrases such as – Business + Location – or other modifiers. For businesses with more than one location, this provides further opportunities to target more areas. Each should have its own landing page and unique content.
In this section, we will look at the main aspects that make up a good location landing page.
Target keyword: Each of the following should contain your target keyword or a variation (don't go overboard, as Google may see it as keyword stuffing). URL, meta description and title, intro copy.
NAP: Add the location-specific NAP
Opening hours: Each location should contain specific opening hours.
Unique local content: Local content not only provides further context to Google on what your landing page is about but also provides an opportunity to showcase your business to customers. You can include various topics, such as awards, services or offerings you provide, best sellers, etc.
Embedded Google Map: This allows users to better understand your location and get driving directions.
Reviews: One of the most effective ways to increase customer visits is to provide them with social proof and help build trust between the business and the user.
Location-specific images: Images provide the visual element in helping a potential customer decide whether they want to visit or shop with you. So, ensure that each image is unique, high quality, and relevant to your business.
Internal linking
Internal linking is an essential factor in both SEO and local SEO for not only search engines but users too. A good linking structure helps users navigate your site effectively and reach a preferred destination, such as a purchase, conversion, or action, such as contacting your business.
For Google, on the other hand, it helps them to navigate your site and provides context from pages that you are linking between, helping them understand the connection between each page. They are unlikely to see a page if no links are pointing toward it. This is also known as an orphan page.
Track your performance
When you start optimising your search presence for local SEO, it's important to track your results. Otherwise, you won't know what works well for you and what you need to improve.
Start by connecting your website to Google Search Console and Google Analytics, as these will provide you with the essential information, such as: How many impressions your website receives, how many clicks, how long people stay on your page, what percentage of people leave after visiting, what search terms you rank for and so on.
If you want to go one step further, you can add UTM codes to measure and isolate performance from specific URLs, such as your website link in Google Business Profile.
A successful local campaign can take your business from zero to hero very quickly. But it's important to create a strong strategy and follow best practices to get the most out of it. We understand that as a business owner, these things can become overwhelming if you don't fully understand what they are or how they work. If you'd prefer to focus on running your business and let us handle your SEO, feel free to get in touch with us to discuss your options.