Black Friday has exploded from a US-only day of discounts to the key sale event of the year. As a topic, it now generates millions of searches during its November peak, and interest continues to grow year over year (dipping during 2020).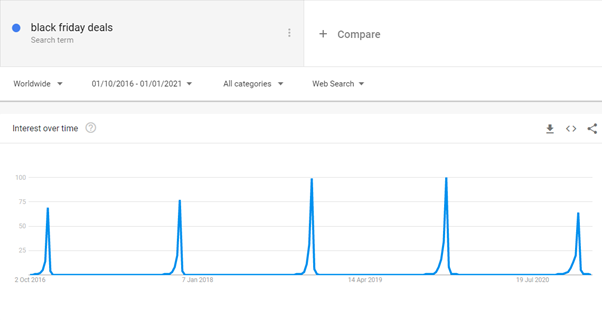 Brands are taking note that SEO is a key channel for traffic and revenue during Black Friday, so competition getting is much stronger.
Wondering how to cut through the noise? Here's how to win in the Black Friday SERPs and some sites to look to for inspiration.
Be prepared all year round
Like most big events, there's a long period of build up before launch – and in the case of Black Friday, this build up now lasts most of the year.
The below keyword is 'black friday deals'. While clearly the majority of searches happen in November, this term now receives thousands of searches every month.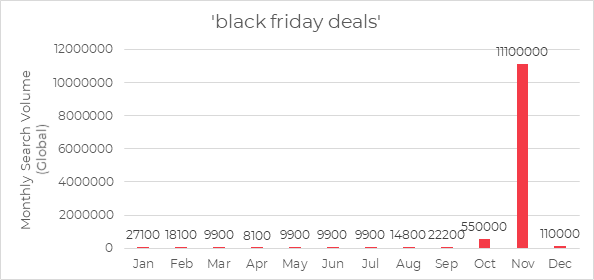 The best way to take advantage of this is evergreen content. This means that even if it's nowhere near Black Friday, your landing page content is live, generating visibility and clicks from the SERPs. This content of course needs to stay fresh so users don't think it's outdated and therefore irrelevant (i.e. once it's 2022, change any wording and references to 2021).
From a page authority perspective, this also gives other sites a central place to link back to, allowing your content to grow its SEO equity over time.
Build the hype
With Black Friday interest climbing sharply from September, tailor your landing page to make sure users know you're preparing for the event. Some ways to get customers ready for the big sale are:
A clock counting down to the launch date
A pop-up prompt to sign up for the mailing list to get extra discounts or early access
Signposts to other live sale pages that users can visit in the meantime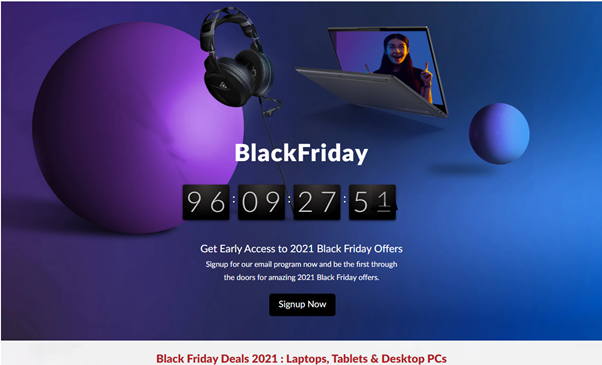 When the event starts, this content needs to change again to reflect the fact the sale is on and convey any practical information, which these brands have done in an engaging way:
Gymshark's humour-led Black Friday FAQs video:
Currys use internal site data to show shoppers when the busiest times of day are on site:

Optimise for different search intent
Optimising for a variety of search intents can help you to get the most from your Black Friday content and attract shoppers across the purchase journey. Broadly speaking we can break this down into shorter and longer-tail searches:
Short-tail searches generally relate to awareness stage keywords – e.g. 'Black Friday Offers' or 'Cyber Monday Deals' which can be targeted using a content page. This page, or pages, can be used as a hub for users to navigate onto product or category pages.
Long-tail searches are usually more specific – for example, not just referring to a type of deal ('Black Friday TVs') but narrowing down further to a particular product ('Black Friday 32 inch tv deals').
Based on keyword research into Black Friday alongside your products you may find there is enough search volume for different ranges to merit separate Black Friday landing pages.
Longer-tail keywords can also incorporate questions 'when is the [brand name] Black Friday sale?', 'what are the best Black Friday deals on [brand name] products?'. These FAQ-style keywords are more likely to benefit from editorial content to provide a detailed answer.
Don't forget technical SEO
Lastly there are some extra considerations to your Black Friday strategy to make sure search engines have the best chance of finding and indexing your content:
Keep your Black Friday pages in your sitemap. This way, even if you don't want to link to them from the site at other times of year, search engines can still discover them.
Check your canonical tags – Black Friday URLs need to have self-referencing canonical tags.
If you have old Black Friday pages from last year that you're not re-using, make sure they are 301 redirected back to live pages. Google Analytics and Search Console are the best places to find old content like this since it may not be linked from anywhere.
Take advantage of schema markup. The Black Friday SERPs don't just surface organic listings, and using structured data to highlight different content types such as FAQs, videos and products means you could be rewarded with wider SEO visibility.
Interested in support with your digital strategy for Black Friday or other marketing activity? Then get in touch with us to discuss further.