Amid all the noise of an ever-changing digital landscape, how can you make your customers pay more attention to your brand? Of course, there is no right answer to this, but one trend that we have seen emerge is the rise of brand avatars.
These new virtual characters and avatars are designed to create a more immersive and human customer experience as well as form a meaningful relationship between brand and user. In other words, the goal is to create an authentic experience that transforms ads into narratives and brands into people.
To make this clearer, let's jump right in with an example: A controversial but famous example of a brand avatar was featured in a campaign in 2019 by Calvin Klein. The ad shows Bella Hadid alongside the 'virtual influencer' Lil Miquela. In the ad, the two women kiss to raise awareness to LGBTQ rights, but received a lot of backlash for the concept. Like Bella Hadid, Lil Miquela is no stranger to the public. The 'influencer' avatar that was created by the L.A. start-up now has over 2.4 million followers on Instagram.
So even though the ad has implemented a new, virtual element for the younger, tech-savvy generation, it lacked good insight. But when used right, brand avatars can benefit your brand in many ways:
Alternative to a logo
Logos can easily become outdated and cannot always express all the values and beliefs a company wants to convey. Brand avatars on the other hand can adapt the way they look and speak and move between contexts. Only by changing their facial expression, they already convey different emotions.
Storytelling
Who better to tell your business' story than a brand avatar? They can deliver a narrative in an emotional and interesting way and become the face and voice of your business. We've seen this in FAQ video content where brands use avatars to answer customer questions in a 'real-life' manner. (find examples below)
Humanising your brand
Marketeers often use well-researched 'personas' to develop a clear target audience. In this regard, brand avatars can help you develop your own persona. So, ask yourself questions like: If my company was a person, what would he/she look like? How would he/she dress? How would he/she speak? What personality would he/she have? The more human your avatar is, the better it will resonate with your audience.
More examples
There's already been a handful of brands who have made use of brand avatars: Gucci, for instance, has heavily invested to serve ongoing digital touchpoints to their Generation Z audience. They have teamed up with Genies, an avatar company similar to Bitmoji, and saw this effort to expand to the younger audience pay off with an increase in revenue. On top of that, Gucci has announced plans to develop a "digital closet", in an effort to personalise the avatars even more and use it as a means to promote their clothing range. With this, they are trying to engage with the young, tech-savvy community and build a long-term relationship with their customers.
Another great example of brands using avatars is the Japanese based Skincare brand SK-II. They have created their own avatar brand ambassador called YUMI. 'She' was built using AI and is designed to answer customer questions in multiple languages and share real-world advice on skincare.
Lastly, another famous company that has used brand avatars is Cheetos. With their Halloween campaign 'Cheetos x Genies', Cheetos teamed up with Genies and let users dress their personal avatars in Cheetos-inspired clothes.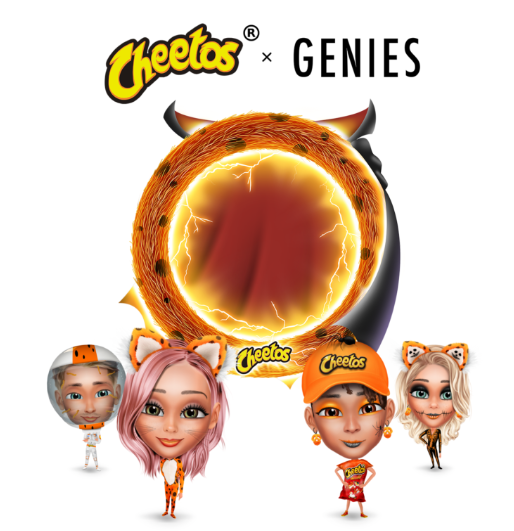 Avatars have come a long way from The Sims as users choose to express themselves on social media platforms like Snapchat and Instagram in new creative ways. So are brand avatars the new logos, models, emojis and influencers? Nobody knows. But we'll definitely keep a close eye on them and see how the customer demand shapes the lives of these fictional characters.