---
In the ever-growing and fast-paced world of media, it's a constant battle to find new, unique, and direct ways to reach audiences. With video marketing not being new to the scene, it continues to be a highly effective method in marketing and social strategies to gain higher levels of engagement from users and audiences.
With of people wanting to see more video content from a business or brand that they support, it is increasingly evident that audiences are still responding positively to video content. Given the impact of the past 18 months, there has been a shift to focus on more authentic video-driven content. Businesses need to keep in touch with their audiences and which platforms they are engaging with.   
However, each social media platform comes with its own set of unique unwritten rules, complimented with shortening audiences' attention spans, leading to a game of catch-up on the latest trends, updates, and new platforms. With 58% of viewers saying they would watch a business-related video all the way through if it's less than 60 seconds, that gives businesses and brands less than a minute to convert a passive user to a potential client or customer. So how can businesses and brands best use video content to reach their audiences?
When planning out content to create a video, the video style is an essential factor to consider. The video style may or may not be dictated by the type of content, key message, and target audience, but it could also impact which platforms it's best suited for, and therefore the length and social strategy around it.
Here are some tips on the type and lengths of videos: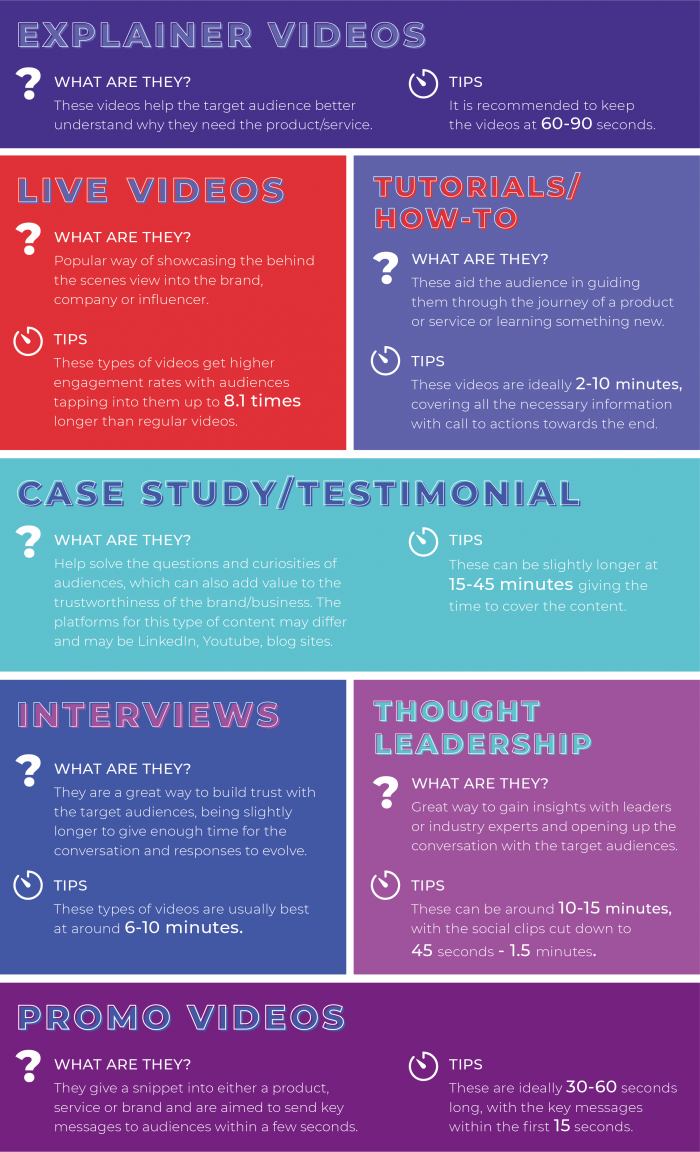 As part of a social strategy, it would be essential to consider the social media platform to share the video content. Often with longer, more in-depth videos, social versions are created using recommended specifications. Below are some key tips on lengths of videos to keep audiences engaged and clear messages to be communicated.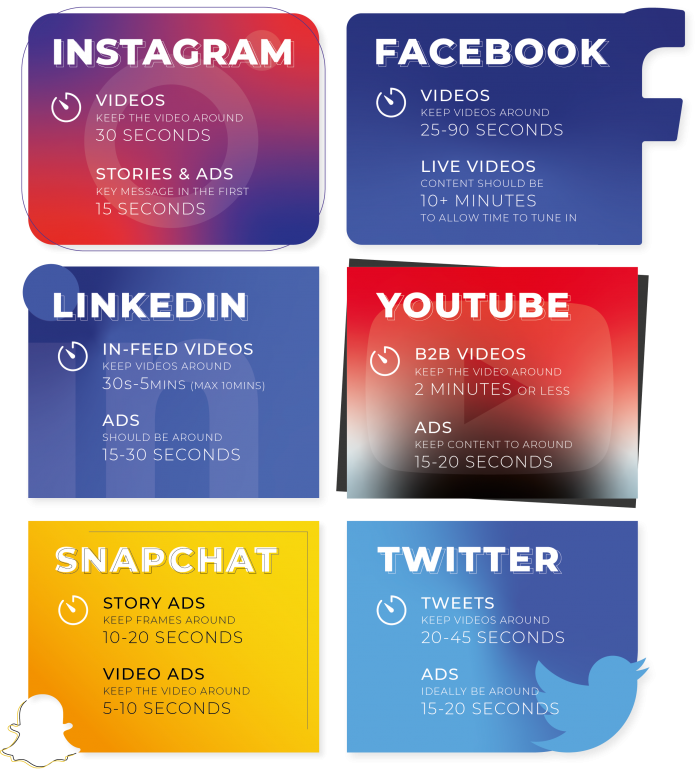 It's no secret that videos are more engaging for audiences and gain more traction, shares, and overall interaction. With 87% of video marketers say that video content has increased traffic to their website, they continue to be the preferred content marketing method.
We have provided some essential summary tips to consider when creating content for your brand or business. However, if you are unsure where to start or need some support on creating a social strategy, get in touch and see how we can help boost your social media performance.