Since the beginning of the Coronavirus crisis, the majority of the companies in the UK have adopted remote working in order to pursue their operation despite the current restrictions imposed to preserve the health of the population and stop the spread of Covid-19.
As you would expect, companies offering and developing working from home solutions to ensure a smooth and seamless business continuity are propelled to the forefront.
One of the most demanded services since the lockdown started, are video conferencing apps. They offer the best solution to stay connected with your team, maintain regular catchups and more importantly to keep the communication open with your clients or stakeholders as well as attending meetings with them. Let's be honest, for most of us, these online meetings have been the only external interactions we've had for the past few weeks except for answering the buzzer and opening the door to the brave delivery man or having a friendly chat with the dedicated Tesco or Sainsbury cashier…
It won't be a surprise to anyone who used video conferencing during the last month or so to see the sudden and sharp growth video call providers have seen lately.
Search term: Zoom.us

Search term: Google Hangouts

Search term: Skype

Search term: Microsoft Teams

In these troubled times, video calls are not only popular in a professional context; we are also seeing new apps, such as Houseparty or existing ones, like Messenger or Whatsapp being used to maintain socialization on a personal level, with loved ones. These apps are also seeing the same increase in demand since the pandemic began: Houseparty went from around 130,000 downloads in February up to 2 million per week in March. (source: Apptopia)
Search term: Houseparty

Search term: Facebook Messenger

Unfortunately, some of these apps haven't hit the headlines positively lately and those news have shed a light on negative aspects, such as flaws in account security, trolling and hacking.
Houseparty faced a storm on social media a few weeks ago: users are claiming that they got some of their accounts, like Netflix, eBay or Spotify, hacked after they installed the video call app on their phones.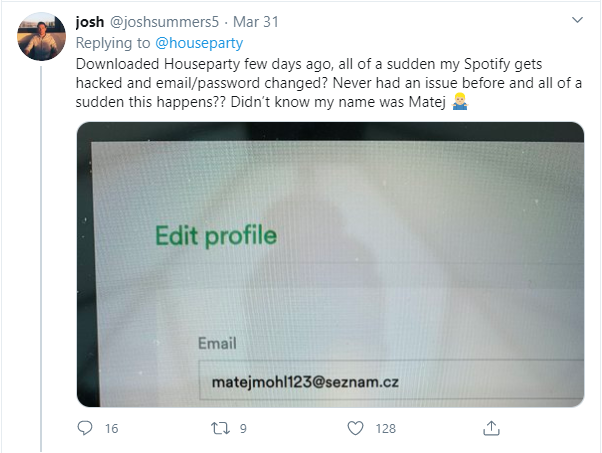 The company that owns the app, Epic Games (creator of Fortnite), answered the allegations on Twitter. At first, they denied any database leaks on their end: "All Houseparty accounts are safe – the service is secure, has never been compromised, and doesn't collect passwords for other sites". The next day, Houseparty claimed that this is part of an offensive campaign paid by someone who wants to harm them. They even agreed to offer a $1,000,000 to whoever could find proof of such a campaign to destabilize them.

Houseparty found support among the cybersecurity community. Experts are also agreeing that the hack doesn't seem to come from the installation of the video call app.
Zoom has also encountered controversy over the last few weeks. With the huge increase in users since the pandemic started, the video conferencing app has seen a rise in trolling.
Trolling on Zoom is called "Zoom bombing". it consists of "hijacking" a meeting, using the meeting details to crash a call and for instance screaming obscenities, broadcasting pornography or simply interrupting someone when they try to speak to other people on the call.
Last week, experts have confirmed one of the Zoom details sources: researchers from Cyble, a cybersecurity firm, have found and bought about 530,000 accounts on the dark web. These accounts were up for sale and would have likely been used to launch Zoom bombing attacks.
However, people from Cyble have said that this finding doesn't mean that Zoom got hacked, but rather that accounts were infiltrated using emails stolen in previous hacks. As a lot of people tend to use the same password across multiple accounts, hackers can use and try password-email combination to try to enter other accounts.
To avoid your call to be "bombed" and to help make your online meeting safer you should:
(source: https://www.techrepublic.com/article/how-to-prevent-zoom-bombing-5-simple-tips/)
Never use your personal meeting ID
Always choose to generate a random meeting ID. A personal meeting ID is like your phone number. If it is leaked online, it could easily be used by trolls to try and contact you.
Always use a meeting password
This will require a password before entering a meeting, meaning that only people with the password will be able to join.
Enable the waiting room feature
This feature is very useful as you can see who wants to join the meeting you and lets you add them or reject them.
Mute audio and disable video for meeting guests.
If you are in a meeting with multiple people and especially people you don't know, this feature helps you to keep control of your meeting.
Turn off screen sharing for everyone except for the host or co-host.
Blocking the screen share from attending people will avoid undesired content to be shared during your meeting.
Although these apps cannot really be held responsible for these "bombings" or leaks as they are not a direct consequence of major security gaps, it does highlight the importance of the care and prudence everyone must exercise online. Having to work in a less professional setting should not take away our vigilance!
At 8ms, we have adopted these five recommendations for all our internal and external meetings using Zoom. Based on our client requirements, other video conferencing apps are used by our team, such as Microsoft Teams, Skype and Google Hangouts.
One of our clients, J2, has a tool called eVoice (https://www.ereceptionist.co.uk/video-conferencing-phone-system) that offers even more control on your meetings:
Control screen share for all participants
Manage the meeting's attendee, allowing you to let people in the meeting and choose who can speak
Keep your background private, with a blur background feature
In-meeting chat, you can chat with the whole audience or privately to one participant, without interrupting the presentation.
No limit of time or attendees
Google Calendar synchronization to help you easily share the invite to your attendees
Don't hesitate to get in touch with our team at hello@8ms.com if you have any questions and stay safe, online and offline!