There's a noticeable shift in the way we consume content. Content which is often most engaged with now tends to be visual, interactive and quick to digest. To react to this, major social platforms have created a raft of new features. Think of Instagram Stories, which are everywhere on our feeds in the form of 'snackable', full-screen visual content.
With stories hugely popular across social media, they've now made it to the SERPs in the form of Google's Web Stories for Search, which surface across global mobile results. So should we start making Web Stories to offer searchers an alternative way to experience a webpage? Will they make a big impact on search traffic? It's unlikely they will immediately, but it may hint at things to come.
What are Web Stories?
Billed as 'immersive storytelling', Web Stories are similar to the story formats used by social media platforms, with some changes for search. The format is largely the same – a sequence of short videos, images and GIFs. These can be up to 15 seconds long and designed in a publisher's unique branding. To read more, users can click through to the publisher's website. Like stories on social, publishers have the option to monetise them to gain more visibility.
Web Stories don't disappear after 24 hours which gives them a longer term impact. This is useful since Google's format and requirements mean they're more time-consuming to create. They are more limited than social stories due to not being interactive, with users unable to react or respond to them.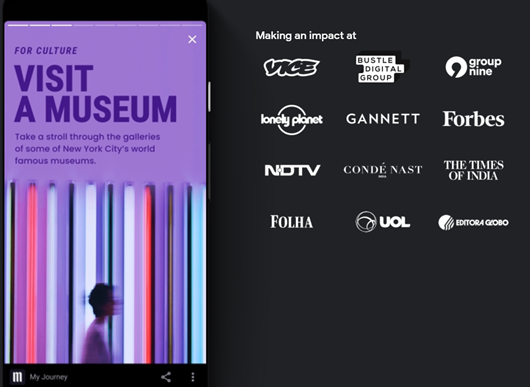 Just for news sites?
Most of the successful publishers of Web Stories listed by Google are news sites. It's clear why the story format works well for news publishers, but there are instances of other types of sites using Web Stories, such as travel, lifestyle, recipes and wellness. This suggests that blog-style editorial content which can easily be broken down into a bitesize list format would be adaptable for stories as well. For subject areas which are detailed or complex, this could be more difficult to achieve.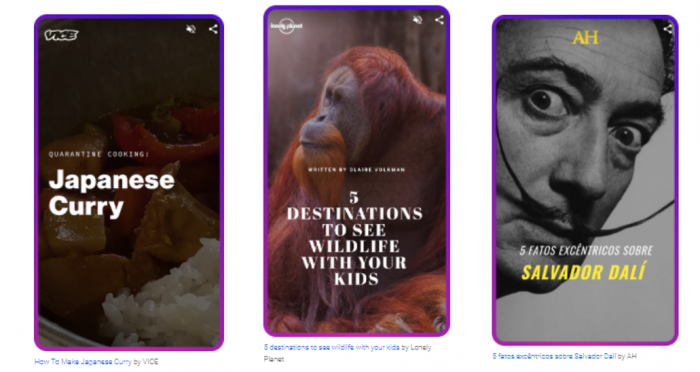 It's unclear how often they surface
If stories work better for some topic areas than others, it's likely that Google would only surface them in the search results for the types of queries that would be relevant. As with other SERP features it can be hard to track exactly when and for which search terms they actually appear. With Web Stories, it's possibly quite limited, especially as currently they only show up in mobile search results and a small number of other platforms.
As recently announced, they will soon be rolled out to Discover (Google's personalised feed which serves users of the mobile app content tailored to them). Discover has 800 million monthly users, but the roll out will initially only be in the US, India and Brazil. It is possible to track Discover clicks within Search Console, which might help when it comes to understanding their performance.
Web Stories have to be built in AMP – for now
At the moment, Web Stories have to be built in the AMP (Accelerated Mobile Pages) format and ensure that they meet its requirements. This means it will require development time to create them. WordPress and Shopify are among the providers of tools that convert content into Web Stories more easily.
Once the AMP Web Stories have been validated, the publisher also needs to provide metadata such as title and publisher, and ensure that the page is able to be indexed for SEO visibility.
Web Stories in future
While having to use AMP might put some sites off, Google is starting to move away from it. To appear in Top Stories you soon won't have to build your page in AMP, which could open it up to more sites who might not be able to build content in that format.
Although stories aren't surfacing widely yet, it's likely they're still in the testing phase, with Google understanding how and when we engage most with them. In future, it's possible that we'll start to see and view stories much more when we're searching on our mobiles.