Social media and ecommerce have always been natural allies. However, with the pandemic forcing people to spend more time indoors, many are turning to social media to not only keep themselves entertained but to also 'scratch' that shopping itch. Not only does social media allow users to discover new brands through engaging content, it also introduces new products to people who normally wouldn't search on a traditional ecommerce platform.
Even though 95% of UK citizens use smartphones, mobile commerce is still low. Especially when compared to markets like China and Africa where this type of shopping is considered the norm. Meaning, lots of room for growth for brands that are willing to try. Recently, Facebook IQ revealed that 52% of consumers research products on Facebook and Instagram before purchasing, with users frequently including social media during purchase consideration. In fact, many consumers take into account a brand's own social channels when evaluating whether to buy from them or not.
As social media continues to integrate with ecommerce, brands should be aware of any emerging trends and technologies to take advantage of the new opportunities it presents to increase brand recognition and drive sales.
Shopping Socially
Between Facebook and Instagram, there are 3.4 billion users for brands to tap into. Instagram alone reports 200 million of its users visiting a business page at least once a day. Social media channels are continuing to incorporate new ways of shopping into their platforms to encourage people to stay in their platform, drive up ad revenue, while also increasing sales for the businesses on their platforms.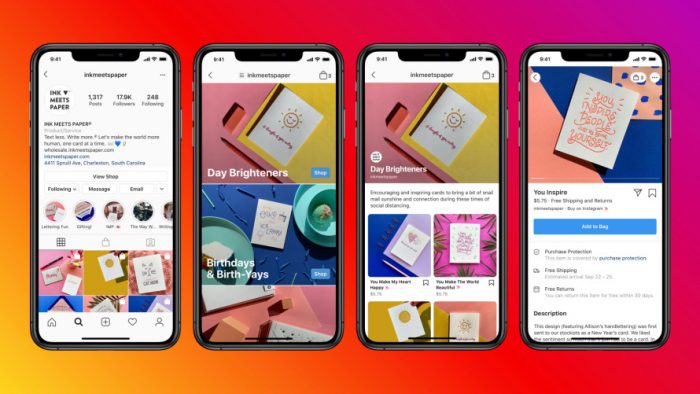 For example in May of 2020, Facebook launched 'Shops' for Instagram and Facebook. While still being rolled out to all business pages, it allows businesses to upload their product listings one-by-one, or connect to their existing eCommerce provider in order to stream through their current catalogue. Not only that, Facebook will also make it easier for customers to message businesses from their shop listings, via WhatsApp, Messenger or Instagram Direct. And in the future, customers will also be able to view a business' shop, and make purchases from within a messenger stream.
Snapchat's visual search lets users scan barcodes and images to find their favourite items and redirects them to Amazon Store to complete the purchase. This January, Snapchat has pushed its ecommerce integration even further by introducing customisable outfits users can purchase for their Bitmojis. This presents a huge opportunity for both large and small clothing and accessories brands to gain further brand affiliation and tap into new audiences.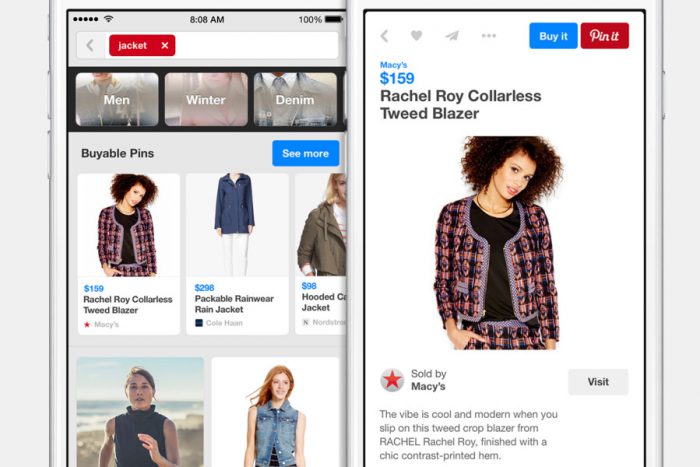 In early 2020 Pinterest took advantage of people being stuck at home due to the pandemic and introduced its new Verified Merchant program, in order to maximize its the availability of Shoppable Pins and connect Pinners through to products. Along with this, Pinterest rolled out shoppable boards, shop from search and shop from pins. Finally, Pinterest also added 'style guides' for related searches. For example, when searching for home-related terms like 'living room ideas', browsable style guides will now appear for home ideas in popular styles like 'mid-century', 'contemporary' and 'rustic'.
These visual recommendations make it possible for users to explore trending styles and taste even when they aren't searching for specific keywords or phrases. Increasingly, Pinterest is focusing on being a product discovery engine for its users. A key part of that is purchases, and making it easy for Pinners to buy the products they find as they scroll; perfect for consumers stuck at home and brands looking to make up for the dramatic decrease in footfall to their brick and mortar stores.
How Brands Can Take Advantage
The key take away from all these integrations is that users on social media are ready and willing to shop. Expect to see social media platforms continue to make this as frictionless as possible for its users.
A lot of social media users love to talk about their favourite brand or product, and share their own videos and images. Now more than ever, it's important for brands to be listening to their audience and using this user generated content to their advantage. Not only that, brands should have a social media strategy that encourages a dialogue between the brand itself and its users. Social contests and campaigns that prompt followers to share their love of a particular feature or product not only increases engagement but builds brand loyalty as well. Successful brands will be focused on creating content for their channels that adds value to their follower's lives, while also utilising the latest features such as ecommerce.