Closing in on 2021, the pandemic is no longer a short-term crisis but an integral part of our shopping, interactions, and general life decisions. All brands should already have COVID-19 in consideration in their strategies, but a healthy reminder of good practices never hurts. At the end of the day, the best way to understand how the digital landscape has changed during the pandemic is by understanding how its users have changed.
Emotions, User Intent & Authentic Content
One of the aspects that remains important for SEO is the user intent behind searches, so the goal that users have when using search. Spending habits can be said to be largely dependent on emotions, either by the emotional state that customers want to reach, or because of the state they are currently in. With the stress and isolation customers have felt during the pandemic, users want brands and sites to make them feel less anxious, more balanced, healthier, but also more connected and sociable. They are seeking kindness, optimism, and happiness in the copy they read and the ads they see.
Many of these emotional needs were not met by brands during the pandemic, with 8% of users saying that they felt brands should stop advertising during the pandemic, and 74% saying that brands should avoid exploiting the situation found this Kantar study. Users still wanted to hear about their favourite brands, as 75% of users in the study wanted brands to communicate what they were doing during these times.
Clearly customer's emotions and spending habits are changing, but this does not mean your messaging and brand should fully change too. We've seen many brands attempt to seem compassionate and relate to customers with the rise of empty catchphrases like "In these unprecedented times", "We're all in this together", "We're family" or "We're here for you". If this is supported by meaningful action and is true to your brand, then there's nothing to worry about! If not, then there's the risk of hurting the trust a loyal user has towards your brand. All your content, be it covid-related or not, should be authentic, fresh, and true to your brand.
Explore our blog posts on Black Friday SEO & Content or on Using TikTok to tell your brands story to learn more about the importance of authentic fresh content.
New Trends in Keywords & Local Search
During the pandemic we saw an increase in search volume for keywords that used variables such as "at home," "home-school", "remote", or "indoor". Many SEO professionals noticed this and started optimising their pages for these keywords. Creating content that your users are interested in and that they can relate to is more important than ever, and it's all about finding the right angle for your business. For instance, travel agents aren't likely to have much traffic for "10 Best Things to See In Bangkok", while "Best weekend hiking spots near London" might be more relevant for a UK audience in these times.
Another trend that we noticed during the pandemic and that remains popular is local searches and local shopping. This is reflected by the popularity of search terms including "open now" and "near me" which we can see on the Google Trends data below.


Brands should pay particular attention to "near me" searches as they are still very popular and worth targeting. For certain spaces, it might be worth creating a directory with the different businesses available within that centre (see below) to optimise for local searches.  Businesses can use "located in" elements and blueprints which show the floor plan to make them appear under a directory. For instance, a hotel with restaurants at the ground floor might want to implement directories to improve user experience and bring more traffic to their own listing. Creating onsite content that points to a hotel's restaurants would help optimise for local searches. A user searching for 'restaurants near me' might stumble on the Hotel page or vice-versa.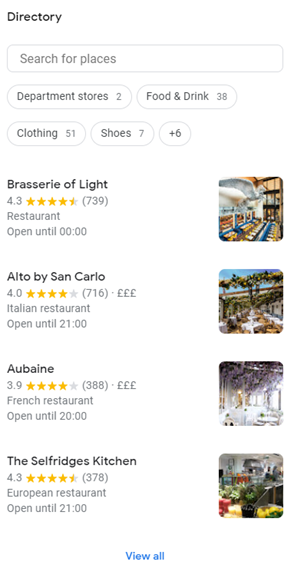 Overall, Local SEO tactics are more relevant than ever before, so make sure your business is listed on Google Business Listing, Apple Maps, Bing Maps and similar platforms, that your social media channels properly indicate the location of your business, and that your website and copy is optimised for local search. Ensuring that your details on the listing are up to date such as opening times, website link, pictures, menus, and prices, is also very important as inaccuracies can cause frustration for users. On top of this, on-site details should match the Business Listing details to reassure users that the opening times are correct, as opening times have been very unpredictable during the pandemic.
Another category of keywords that has become very relevant during the pandemic are "delivery" related terms such as "free delivery", "next day delivery" and "same day delivery".

Users seem to be looking for quick and reliable delivery options as well as free delivery rather than same day delivery, which is not as popular. If your business offers one of these services, it is worth emphasising and optimising your copy for them. Creating a page on delivery information and making sure your page titles, meta data and paid media all communicate the delivery options you offer would help rank for these popular keywords, particularly if you offer next day delivery.
Things to keep in mind:
With lockdowns and people working from home, internet traffic has increased since the beginning of 2020. Although this will generally mean more traffic to your site and more users, it's not an excuse to relax on SEO efforts! Instead, it's the best moment to capture new users with accessible and user-friendly sites, as well as authentic and fresh content.
Key takeaways:
Meet user's emotional needs through your content (optimistic, happy, hopeful)
Optimise for local searches and update your Google Business Listing
Continue creating fresh relevant content and optimising popular pages
Stay on brand with messaging and make sure you're authentic
Create relevant pages matching user's living/working situation
Emphasise on your USPs, particularly delivery options
Finally, remember to reward your loyal customers and to create exciting new content for them. Ensure you are visible within local search and that you're accessible on other relevant platforms including social media. More than anything, the pandemic is not an excuse to relax SEO efforts so keep an eye on what competitors are doing and what your customers actually want.
Interested in support with your SEO strategy in a post pandemic world or other marketing activity? Then get in touch with us to discuss further.